If you are thinking, "I'm planning to go sightseeing in the Kyoto area, but since I came to Japan during the winter, I'd like to enjoy some real skiing," there's good news for you. Located a mere 30 minutes away by car from Kyoto City, located in the Kansai metropolitan area, is an urban ski resort. Today, we'd like to introduce the Biwako Valley Ski Resort! Try visiting and you will probably be surprised to find that it is a true ski resort - seeing as Kyoto is not an area that normally gets snowfall. If you are thinking about trying a winter sport at least once in your life, why not make your ski debut here?
The best thing is how amazingly convenient it is to access!
No matter how you look at it, the appeal of Biwako Valley is its superior ease of access. That sums it all up! By car, it is about 30 minutes from the Kyoto-Higashi Interchange on the Meishin Expressway. By train, too, its easy accessibility is an advantage: it is only a 10-minute bus ride from Shiga Station on the Kosei Line. For a ski resort to be located so close to a metropolitan area is itself rare, and some have even referred to its ease of access as being "top class" within Japan.
But just because it is close doesn't mean its facilities are lacking: the ski slopes, high up on the splendid, snow-capped mountains, are the real deal. The slopes are fairly compact in size, but they pride themselves on having the largest slopes out of any ski resort near a metropolitan area.
The only difficulty is that due to its convenience and ease of access, it can also tend to be crowded even on weekdays. However, depending on the time of day, there are also some courses that are completely empty, so with a little resourcefulness in how you spend your time, you can definitely ski comfortably. To sum it all up, the biggest appeal of Biwako Valley is that it is close - and that the slopes are the real deal!
Largest-scale ski resort in Kansai you can visit as a day-trip
With an elevation of up to 1,170m, it is fairly high for a ski resort. With 8 courses over a total of 22 hectares, it is a bit compact, but the size is perfect to be able to enjoy skiing for the length of a day-trip. This beautiful location, which has a high rate of fair weather, and where on clear days you can look out over the stunning scenery of Lake Biwa from the mountaintop, awaits your arrival.
Since the ski resort is close to the metropolitan area, it seems that many visit without having high expectations. When these visitors come and see the place for themselves, they often make comments like, "I didn't think it would be such a full-scale ski resort!" Each course by itself is short, but they are laid out with good balance - there are slopes ranging from wide courses that are easy for beginners to practice on, to steep slopes for advanced skiers.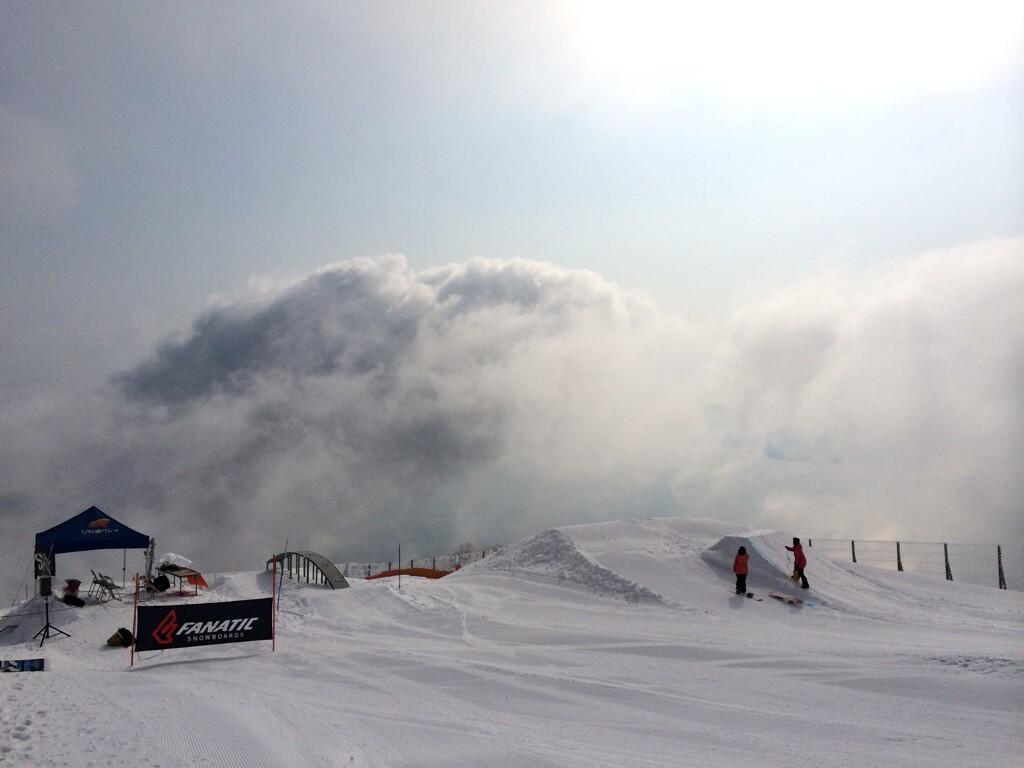 Reference:https://twitter.com/biwako801/media?lang=ja
The most popular is the main slope, "Horai Panorama Slope." The wide, easy slope, which you can ski down while overlooking the beautiful scenery of Lake Biwa, is perfect for beginners to practice! However, it is actually an intermediate course, so it allows you the freedom to challenge yourself to ski with a more aggressive style once you have gotten used to the snow.
Another beginner's course is the easy, gentle slope, "Uchimi Slope". This slope is right next to the Ropeway Summit Station, so it's usually bustling with people. Also, the width of the course is on the narrow side, so make sure not to bump into other skiers on this slope.
Enjoy the skiing experience with a high-speed ropeway
A large-scale ropeway extends to the Summit Station, making it easy to begin skiing. With 121 people able to ride at a time, its carrying capacity is second to none, and it takes less than 4 minutes to reach the summit. Most people express surprise at the short trip, with comments like, "We arrived before I knew it!" or "I was so busy enjoying the scenery we arrived before I noticed!"
"Uchimi Slope" tends to be crowded since it's the course closest to the summit, so one way of evading the crowds is to head for the branching intermediate courses.
With a Ski Association-certified ski school, even beginners can have peace of mind!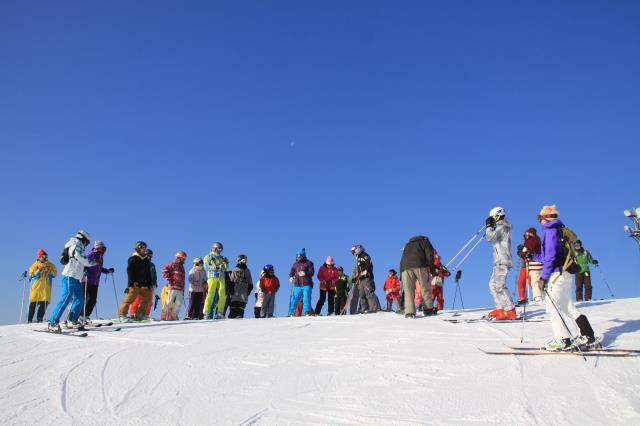 Reference:https://twitter.com/biwako801/media?lang=ja
With instructors certified by the Professional Ski Instructors Association of Japan, the ski school offers a high level of instruction. A rich variety of content is offered, sure to satisfy everyone from beginners going skiing for the first time to advanced skiers who want to improve the accuracy of their turns.
We recommend private lessons for those who are not confident in their skill. Experienced teachers will be happy to assist you with anything from basic fundamentals to advanced techniques. Besides that, there are also group lessons aimed toward large groups skiing together. Those who would like to enjoy the lesson together with their friends might want to go this route. You can take lessons in skiing or snowboarding, to enjoy either one!
Act quickly, before it gets too crowded
Since it is a genuine ski resort with superior ease of access, it reaches its most crowded peak time during the weekend. For this reason, it's especially important to ski carefully on the main slope, "Uchimi Slope", as it tends to fill up with people even on weekdays. Although this slope is aimed at beginners, considering its tendency to get crowded, it's safest not to enter if you don't yet have good braking ability.
The large-helping resort restaurants are very popular!
There are three restaurants in the resort: Lake View, Sky Cafe, and Bird Castle. All three are renowned for serving delicious food in generous portions.
The particularly popular Lake View has become a hot topic for its lunch buffet which you can enjoy while looking out on the scenery of Lake Biwa.
With a seating capacity of 400, you can avoid fighting to find a seat if you go early. That said, during peak times it does get crowded, so it's better to avoid the lunch hour rush. Or, if you aren't particular about eating at the resort, you can go down into the nearby town, where there are plenty of places to eat.
If you are going to take a day trip from Kyoto City to go skiing, this is the place to go!
That about sums it up!
Combined with its convenience and ease of access, Biwako Valley Ski Resort is the biggest ski resort you can go to for a day trip in the Kyoto area. Although you can't go on a full-scale long run, there are plenty of activities that let you taste the charm of skiing to its fullest. If you have plans to sightsee in Kyoto City, be sure to make skiing one of the priceless memories of your trip!
Pricing information and schedule may not be up to date and are subject to change without notice. Please check before your trip.
Related ski resorts
| | |
| --- | --- |
| Longest run distance | 1,400 m |
| Maximum gradient | 30 ° |