JR EAST PASS (Tohoku area)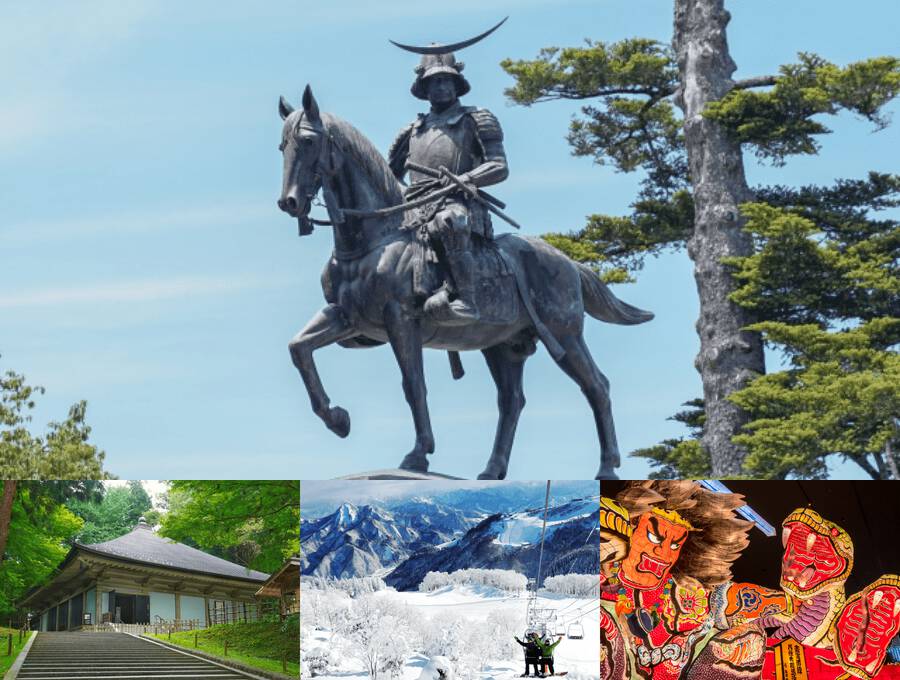 The JR EAST PASS (Tohoku area) is a rail pass issued by JR East Japan for the Kanto and Tohoku regions. It allows you to use any number of conventional and Shinkansen lines in the valid area for five consecutive days. Take advantage of this opportunity to travel not only around the Kanto area, but also beyond to some of the most popular areas in Tohoku, including Sendai, Akita, Aomori, Yamagata, Iwate, and more.
Countermeasures by JR East to prevent the spread of coronavirus (COVID-19)
JR East is taking the following measures to prevent the spread of the coronavirus (COVID-19)
Periodic cleaning of stations and train interiors
Sterilization by wiping down and disinfecting areas frequently touched by hands
Constant ventilation through air conditioning and ventilation equipment that changes the air inside the carriage every 6 to 8 minutes
Station attendants wear masks
Plastic sheets installed to prevent droplet infection at counters.
Providing information on congested trains and stations along major lines
For more information, please visit the JR East official website (English).
Please visit https://www.jreast.co.jp/e/customer_support/corona-info/index.html
Price
Adult (12 years and older): USD 146.96 Child (6-11 years old) : USD 73.48
The classification of adult and child is based on the day of purchase.
Infants under 6 years old who need a reserved seat should purchase a pass for children at the exchange counter.
Valid Period
Five consecutive days starting from the start date specified.
Valid Routes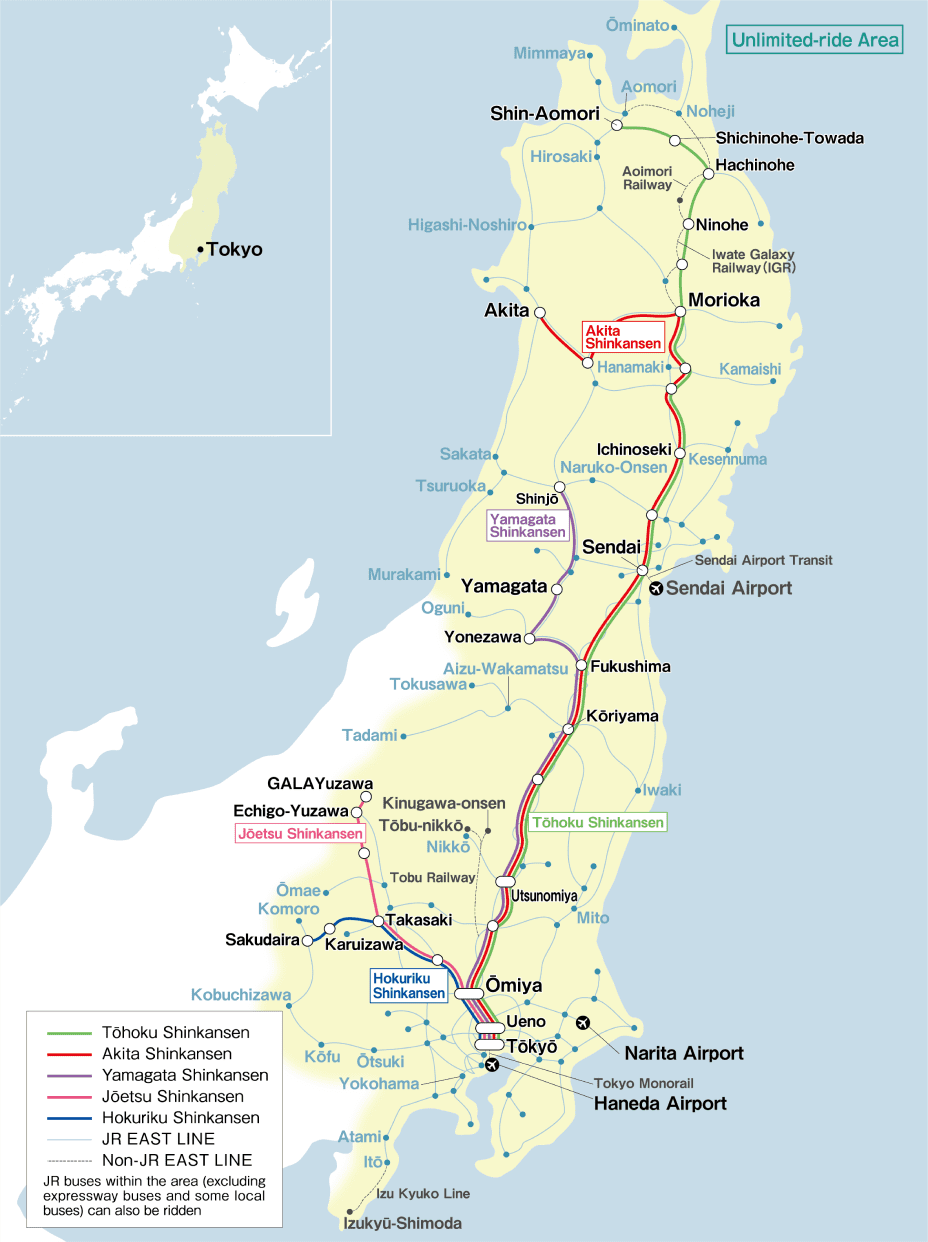 Shinkansen
Tohoku Shinkansen (Tokyo Station - Shin-Aomori Station)
Akita Shinkansen (Tokyo Station - Akita Station)
Yamagata Shinkansen (Tokyo Station - Shinjo Station)
Joetsu Shinkansen (Tokyo Station - Echigo Yuzawa Station, GALA Yuzawa Station *1)
Hokuriku Shinkansen (Tokyo Station - Sakudaira Station)
*1 GALA Yuzawa Station is open only during the operation period of GALA Yuzawa Ski Resort.
Limited Express Train
Azusa, FUJI EXCURSION (only some sections are valid)
Kaiji, Hachioji, Ome
Shonan, Odoriko
Narita Express
Hitachi, Tokiwa
Wakashio, Sazanami, Shiosai
Swallow-Akagi, Akagi, Kusatsu
Tsugaru
Inaho (only some sections are valid)
Regular Train / Bus
JR East lines (including JR Bus *2)
Izu Kyuko line
Tokyo Monorail
Aoimori Railway Line
Iwate Galaxy Railway (IGR) Line
Sendai Airport Transit Line
*2 For more detailed information on the areas where JR buses can be taken and maps, please visit the following URL (English only). https://www.jreast.co.jp/e/pdf/jrbus_map_e.pdf
Partially available trains
The following express trains with through operations between JR East and Tobu Railway lines: Nikko, Kinugawa, and SPACIA Kinugawa trains.
Ordinary trains (including rapid trains) on the Tobu Railway lines between Shimo-imaichi and Tōbu-nikkō / Kinugawa-onsen. Between Kurihashi and Shimo-imaichi, you can only use express trains that have through operations with Tobu Railway.**
Note
If you would like to travel in a Grand Class, Green Car, or Sleeper Train carriage, you must purchase a Grand Class reserved seat ticket or Green Car reserved seat ticket in advance. The JR EAST PASS covers only the fare portion.
Purchase Requirements
You must be a foreign national with a passport issued by a country other than Japan (Japanese nationals cannot use this pass.)​ ​
Please have the pass user present a valid passport (original) when making a purchase. (Passes cannot be purchased by anyone else, including family members.)
Number of Purchases
A maximum of 10 passes for each adult and child can be purchased per order.
Payment Method
Purchases can be made only by credit card (VISA/Mastercard).
How to Receive the Pass
Please present the e-voucher issued after purchase and a valid non-Japanese passport at the exchange counter. Collect the pass at the exchange counter within 3 months of issuance of the e-voucher.
Pickup Location
Latest information on the exchange counter can be found here. https://www.jreast.co.jp/e/ticketwindow/?selectPass=eastT
How to Use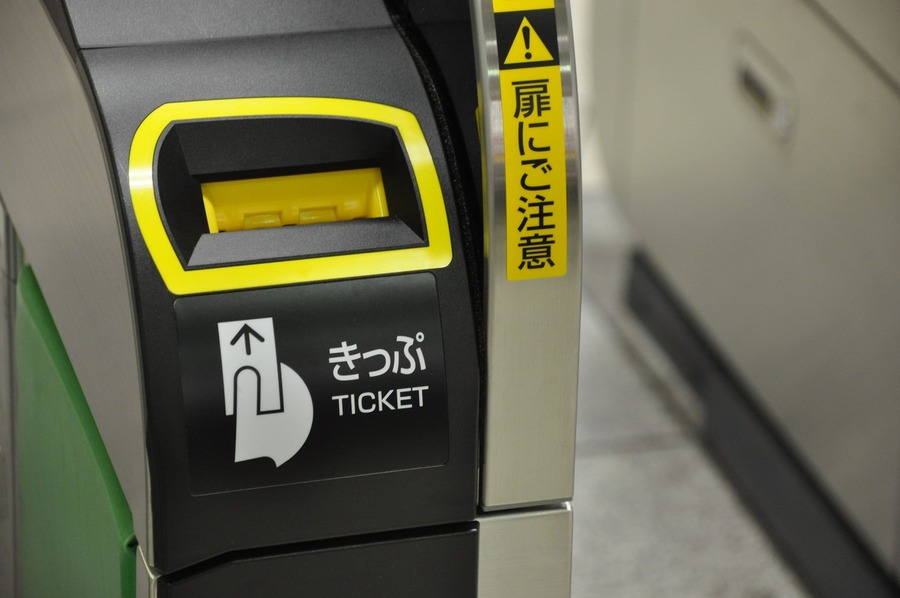 Automatic ticket gates are available within the usage area.Inquire with staff for entry if an automatic ticket gate is not available.
Automatic ticket gates cannot be used for non-JR EAST lines. Inquire with staff for entry. ex. Saitama New Urban Transit (Omiya Station to the Railway Museum)
Notes
Make sure that the name on your reservation matches the name on your passport. If they do not match, you will not be able to exchange your ticket at the exchange counter in Japan.
When exchanging a JR EAST PASS at an exchange counter in Japan, you must present the e-voucher and your passport. A photocopy of your passport will not be accepted.
The start date must be set within one month at the time of exchange at the exchange counter in Japan.
The same type of JR EAST PASS (for example: two Tohoku area passes) cannot be exchanged if their validity periods overlap.
Different types of passes (for example: Tohoku area and Nagano, Niigata area passes) can be exchanged even if their validity periods overlap.
If you do not meet the eligibility requirements, you will not be able to redeem the ticket even if in possession of an e-voucher. If you wish to cancel your order prior to ticket exchange, please do so from the WAmazing order details screen.
Please note that should you lose or misplace your JR EAST PASS, it cannot be reissued.
An additional fee will be charged if the pass is used on lines and areas not covered by the JR EAST PASS.
The pass can only be used by the registered ticket holder. Always carry your passport with you and present it when requested by the attendant.
Once the pass has been used, no refunds or extensions can be made due to cancellations or delays in train services. In addition, neither JR EAST nor WAmazing will be responsible for any additional costs, such as transportation or accommodation, due to changes in the itinerary.
Cancellation & Refund
Cancel
Cancellation can be made within one year of the issuance of the e-voucher. (cancellation fee 10% of sales price)
Refund
Unused passes may be refunded at the counter where the pass was redeemed, as long as they are still valid. The refund fee is 10% of the sale price. Please note that a used pass cannot be cancelled. Once a seat ticket has been issued, it cannot be refunded after the scheduled departure time, even if it has not been used.