Hokkaido, located at the northernmost part of Japan, is becoming a popular sightseeing spot known for its rich nature and food culture. In 2016, according to the Hokkaido Tourism Office's "Status of Hokkaido Tourism," foreign tourists have increased to nearly 1 million people in the past decade. In Hokkaido there are plenty of events characteristic of winter, such as the Sapporo Snow Festival and skiing. Another reason Hokkaido is gaining in popularity might be because of all the fresh seafood you can eat there, too.
The winter weather in Hokkaido


Hokkaido experiences extreme cold with a high temperature of 2.1°C and a low temperature of -4.1°C, and as much as 5 meters of snow can accumulate on the ground. Because the temperature differences can be quite fierce when compared to countries with warm climates, it's necessary to take proper measures against the cold when traveling.
During winter in Hokkaido the wind blows cold, and if you stay outside for a long time your body will be chilled to the bone. It's so cold that even your hair or runny nose might freeze. When you go for a walk around town, take proper measures against the cold, such as wearing warm innerwear. Also, we recommend carrying a portable hand warmer with you, as even if it's sunny outside the weather may suddenly become cloudy or snowy.
Many cafes or restaurants often use double-layered glass as a measure against the cold, as well as making good use of a heater. Because of this, it's quite warm inside, so it's useful to have a light cardigan you can put on when you go inside.
Sightseeing spots you have to see if you travel to Hokkaido in winter
Asahiyama Zoo


First up is Asahiyama Zoo in Asahikawa City, Hokkaido Prefecture. This zoo, which will see its 50th anniversary in 2017, represents Hokkaido as one of its most popular sightseeing spots. When you go, be sure to see the Penguin Walk. Watching the adorable penguins up close as they walk around the park for 30 minutes is famous as a seasonal winter custom.
Aim for visiting on a weekday if you come from late-December through late-January, because the park will be very crowded during the winter holidays. Also, there are numerous events that you can only experience in winter - such as observing the penguins from underwater at the Penguin House, and the Snow Lights Zoo event, where the park is lit with ice candles.
【Details】
Asahiyama Zoo
Address: Kuranuma, Higashi Asahikawa-cho, Asahikawa City, Hokkaido Prefecture
Business Hours: 9:30am - 4:30pm (Last entry 4:00pm)
Business Period: Monday, October 16, 2017 to Friday, November 3, 2017
Weekly Holidays: none
Price: adults (high school students and older) 820 yen, children (junior high school students or younger) free
Drift Ice Cruise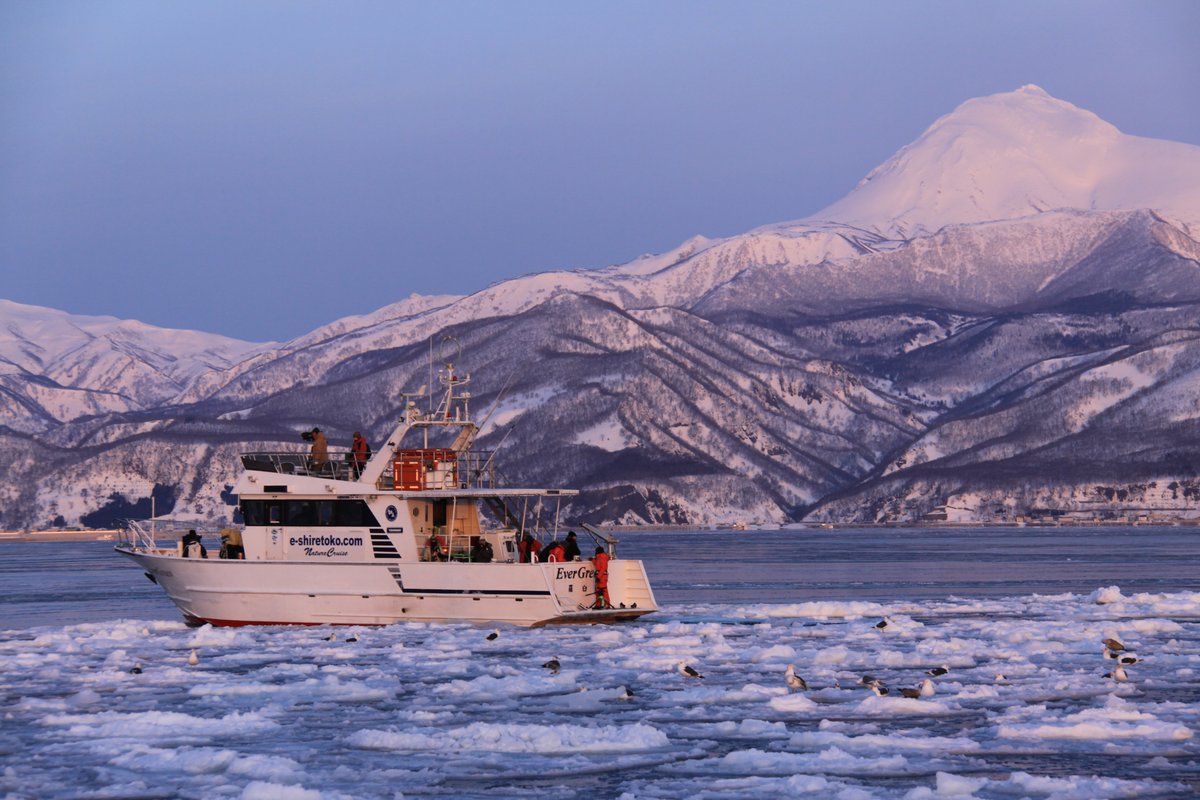 Reference: https://twitter.com/activityjapan/status/781056115048116224
The Drift Ice Cruise is something you'll really want to experience during your winter travels in Hokkaido. Though some may have seen drift ice on TV or in films, there aren't really many people who have actually seen it up close, are there? Here's an activity recommended for those who want to do just that - take a cruise along ice drifting on the water's surface.
This thorough cruise, which takes a total of 1.5 hours, lets you observe wild animals who live near the ice, such as clione, seals and sea eagles up close. There aren't many chances like this to observe wild animals at such a close distance. This drift ice cruise requires reservations in advance, so make sure to apply online.
【Details】
Abashiri Drift Ice Sightseeing & Icebreaker Ship Aurora
Address: 107 Utoro Higashi, Shari-cho, Shari-gun, Hokkaido Prefecture
Business Hours: inquire in advance
Weekly Holidays: inquire in advance
Price: from 3100 yen - inquire in advance
The "Blue Pond" in Biei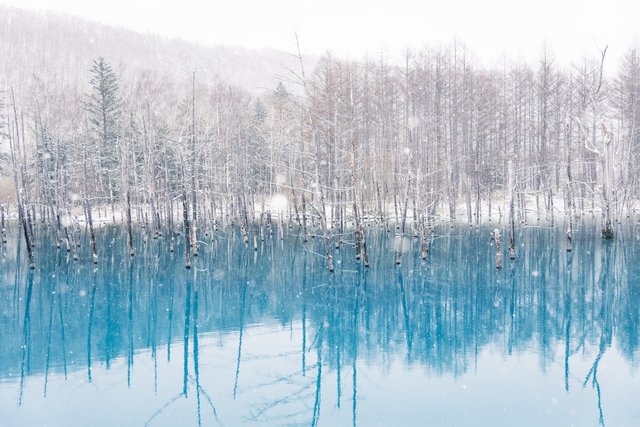 Reference: https://twitter.com/Nihonsutekitabi/status/811091020293115904
The beautiful cobalt blue "Blue Pond". This pond is a famous sightseeing spot that has even been ranked number 10 out of the top 10 scenic views in Japan.
It's said that the beautiful blue color is created when the sunlight shining into the water intermingles with particles in the air. The optimal time for photo-taking is in the early morning, just as the morning sun shines into the water between 6 and 7am. Because the air is clear and there usually aren't many people, we think you'll definitely be able to take some fantastic photos.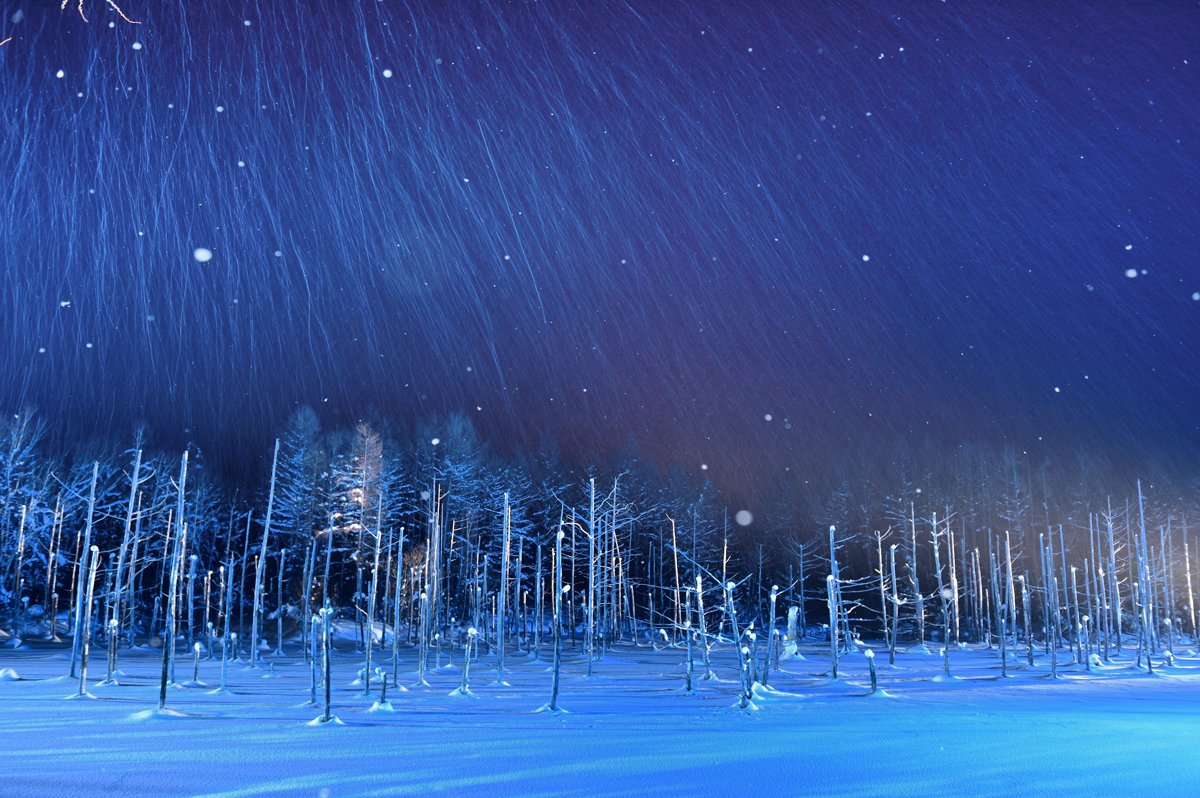 Reference: https://twitter.com/mannma2010/status/817894794408050688
In addition, you can see the Blue Pond illuminated with lights between 5pm in the evening and 9pm at night. The sweeping view of the snowy scenery lit up in various hues such as blue and pink is a beauty so stunning it's almost otherworldly.
As the illuminations only happen during limited periods throughout the year, please check for details regarding these times using the URL below. It's an experience you can only have in winter, so make sure to pay a visit whilst you're travelling through Hokkaido for a truly memorable time. The cold sets in suddenly at night, so be sure to take measures to protect against the low temperatures to avoid catching a cold.
【Details】
Address: Shirogane, Biei-cho, Kamikawa-gun, Hokkaido Prefecture
Operating Period: Throughout the year (excluding the period after the illuminations have finished and until the snow has melted)
Illumination times: 5:00pm - 9:00pm
Illumination period: Wednesday, November 1, 2017 to Saturday, March 31, 2018
Weekly Holidays: none
Price: free
Lake Shikaribetsu Kotan
Lake Shikaribetsu Kotan is a popular event hosted for a limited time from Saturday, January 28, 2017 to Monday, March, 20 2017. As it's an event that you can only experience during the cold winter months, tourists flock from all corners of the world to visit, along with the usual locals.
Amongst a host of attractions such as an ice bar and the world's first open-air bath on ice, the one aspect of the event that never fails to draw a crowd is the Ice Lodge, an igloo made on the lake where you can stay overnight. You may be thinking that you won't be able to sleep if it's so cold, but as you can borrow a sleeping bag & pillow designed for extremely cold climates, you can ensure that you'll feel warm and at ease. This winter, how about you try paying a visit to the out-of-the-ordinary at Lake Shikaribetsuko Kotan?
【Details】
Address: Shikaribetsuko, Shikaoi-cho, Kato-gun, Hokkaido Prefecture
Operating Period: Saturday, January 27, 2018 to Wednesday, March 21, 2018
Price: free
Weekly Holidays: inquire in advance
Sapporo Snow Festival


Reference: https://twitter.com/tweetjoker013/status/924944531694305280
Speaking of winter traditions in Hokkaido, who could forget the Sapporo Snow Festival? Located in the heart of Sapporo, this popular winter event is held in the 1.5 km wide Odori Park. Since its beginnings in 1950, around 2 million tourists visit every year to see this event known as one of the most historical in Hokkaido.
More than 200 snow sculptures are on display inside the park that hosts the event, and there are also a host of other things aside from snow to enjoy - such as an ice skating rink, and more. If you visit Hokkaido, this is a sightseeing spot you must see.
【Details】
Address: Odori Park, Nishi 1 Chome to Nishi 12 Chome
Event Period: Monday, February 5, 2018 to Monday, February 12, 2018
Hours: Anytime within the event period (illuminations are until 10:00 pm)
Weekly Holidays: none
If you're travelling to Hokkaido, here are a few excellent dishes you have to try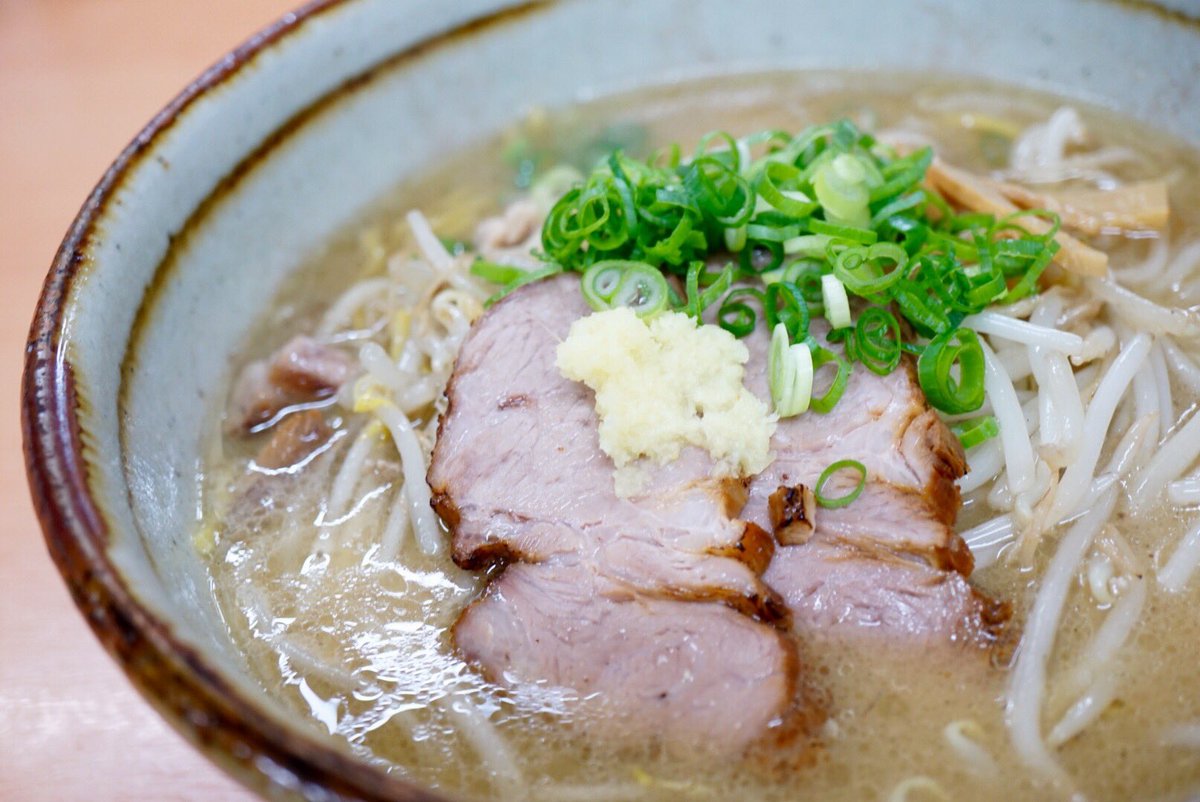 Reference: https://twitter.com/JUN2lifeday/status/913701475464785920
Sapporo Jingisukan Daruma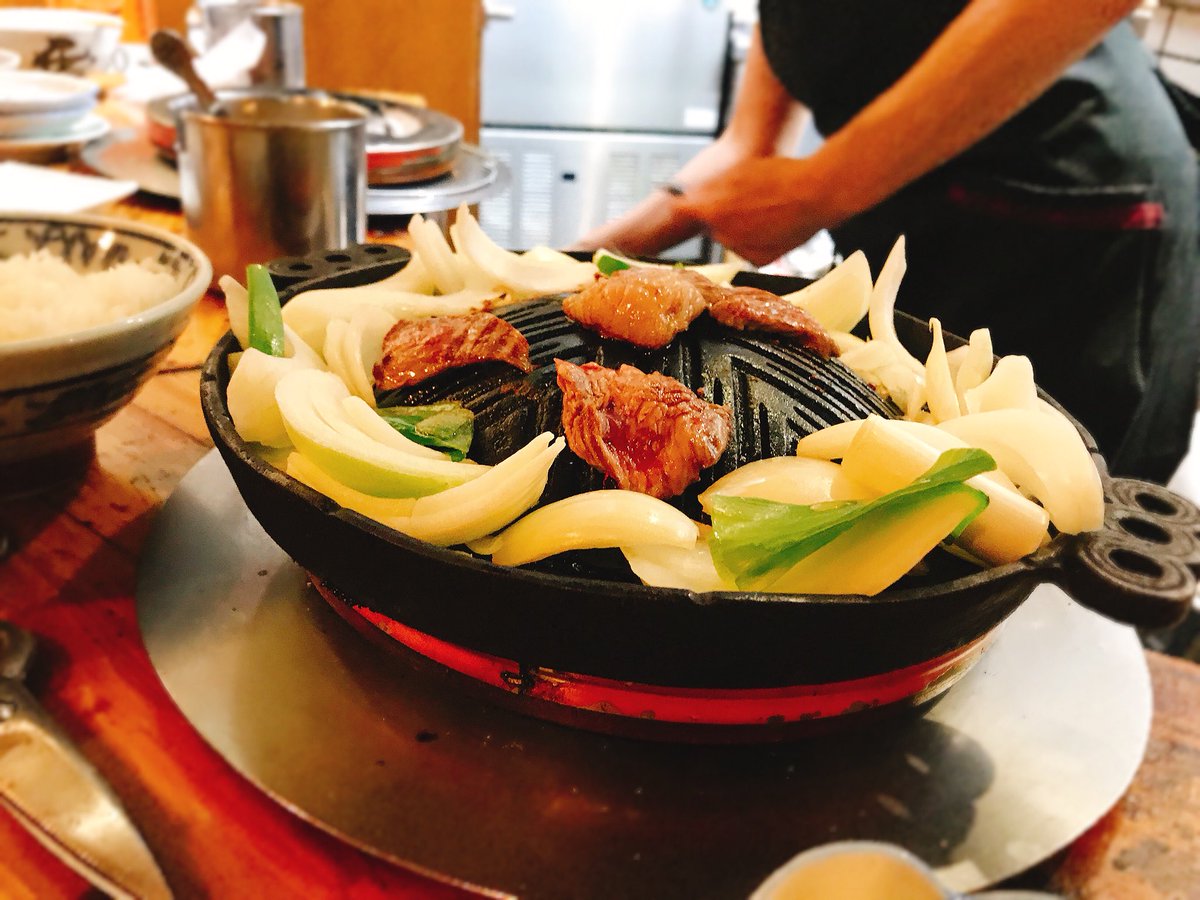 Reference: https://twitter.com/hidetoyamachi/status/923196808406319104
Seeing as you've come all the way to Hokkaido, you'll want to taste the local specialties. The first dish we'll introduce here is Hokkaido's famous Jingisukan. Jingisukan is a local dish representative of Hokkaido - a type of soul food to the local people here.
If you're looking to eat Jingisukan, we recommend Sapporo Jingisukan Daruma. For 847 yen per person, you can enjoy various cuts of meat, such as chuck, loin and thigh. Cooked slowly over charcoal, Jingisukan is easy to eat and doesn't have any unpleasant smoky smell, so not only locals but also tourists from abroad give it rave reviews.
【Details】
Address: Crystal Bldg. 1F, 4 Minami 5 Jo-Nishi, Chuo-ku, Sapporo City, Hokkaido Prefecture
Business Hours: 5:00pm to 3:00am (Last order 30 minutes before close)
Weekly Holidays: End of Year/New Year holiday period
Ebikani Gassen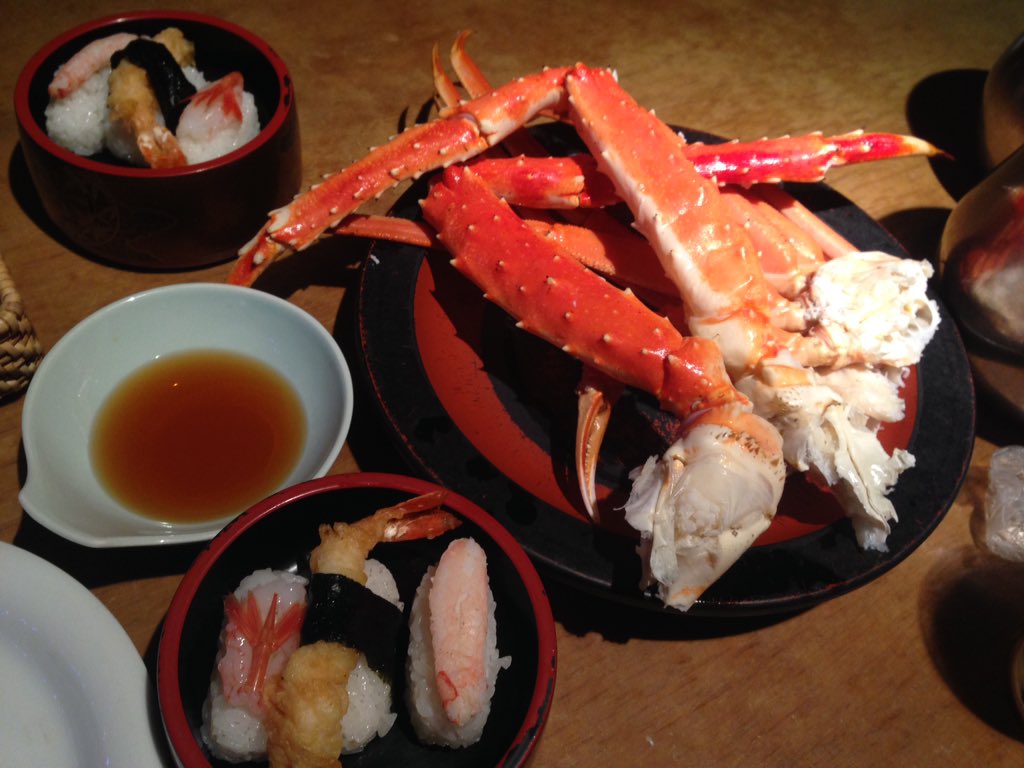 Reference: https://twitter.com/tat6325/status/678202823016710146
Hokkaido, being surrounded by sea, is a place where you can sample fresh seafood that's only just been pulled from the water. Ebikani Gassen in Sapporo City is a restaurant where you can enjoy all-you-can-eat crab and shrimp. You can eat a rich variety of different types of crab such as hairy crab, snow crab and king crab to your heart's content.
On the all-you-can eat menu, you can have large servings of hairy crab, crab chawanmushi (savory egg custard), nigiri sushi (shrimp, crab, or shrimp tempura), and dessert, all for 4500 yen per person (with a 2 hour limit). At a very affordable price, you'll want to try tasting all these fresh crab dishes. Other than the all-you-can-eat option, there are also extremely satisfying menu items for crab lovers, such as crab kamameshi (rice cooked in an iron pot) and plates with selections of 3 different kinds of crabs.
【Details】
Address: F-45 Bldg. 12F, 5 Minami 4 Jo-Nishi, Chuo-ku, Sapporo City, Hokkaido Prefecture
Business Hours: 4:00pm to midnight
Weekly Holidays: End of Year/New Year holiday period
Hachikyo (Main Location)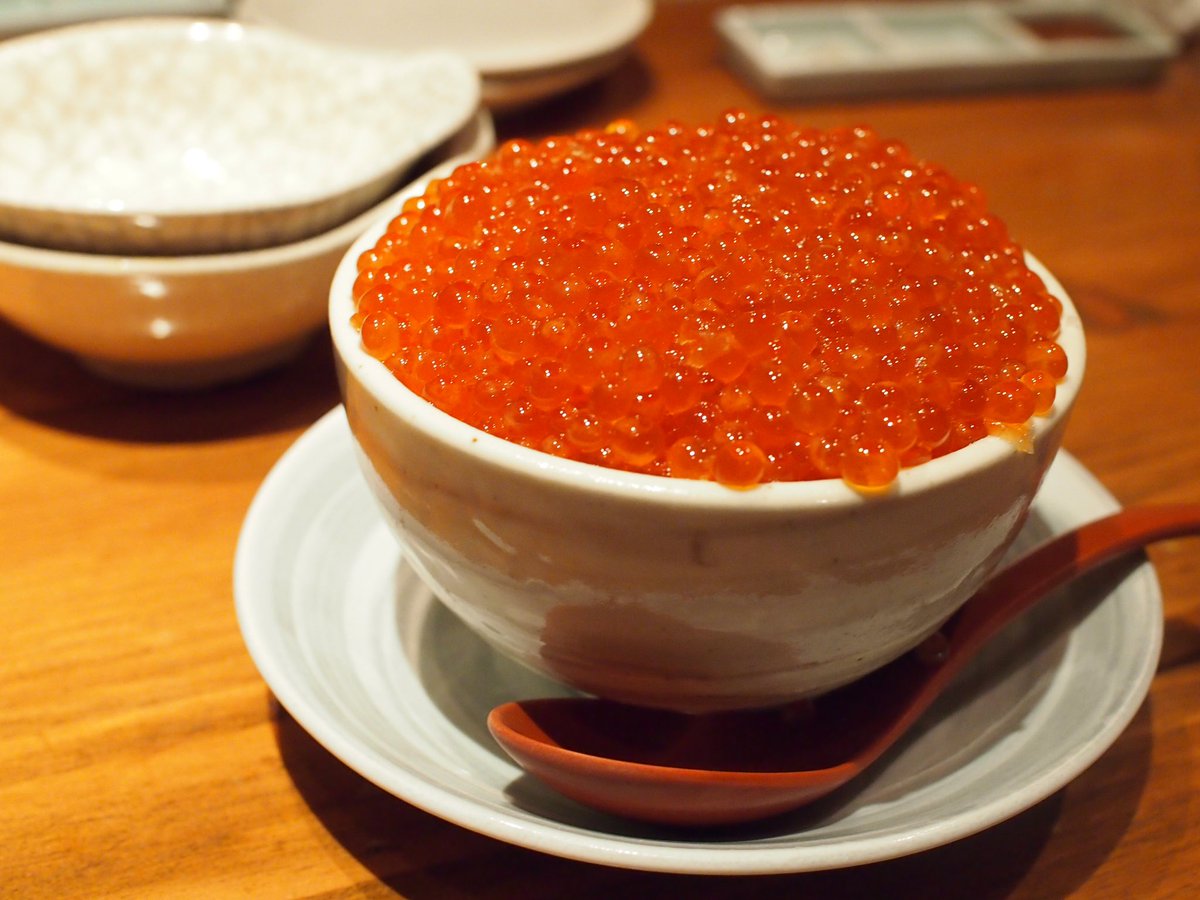 Reference: https://twitter.com/kumi_ekimemo/status/918855041896738816
Hachikyo Main Location is a seafood izakaya (Japanese pub) where you can eat delicious fresh seafood. Among the many menu offerings, the most popular is the Tsukko Meshi. Once you order, you'll be brought more and more hearty salmon roe in soy sauce until you say stop. It's a luxurious gem characteristic of Hachikyo's Main Location store.
By the way - you'll get fined for leaving even one grain of food left over on your plate. As a gesture of gratitude toward the fishermen who put their lives on the line to produce fish for the restaurant, along with a desire to treat the ingredients with respect, the restaurant has put a ban on leaving behind even a single grain of rice. It's an extremely popular restaurant, so be sure to make a reservation before going.
【Details】
Address: Miyako Bldg. 1F, 3 Minami 3 Jo-Nishi, Chuo-ku, Sapporo City, Hokkaido Prefecture
Business Hours: Monday - Saturday 6:00pm to midnight (last order 11:00 pm)
Sunday and Holidays 5:00pm - 11:00pm (last order 10:00 pm)
Weekly Holidays: none
Donburi Chaya


Reference: https://twitter.com/75chu/status/859322068478828545
Seeing as you've come all the way to Hokkaido, you most certainly can't go home without trying a seafood rice bowl. Donburi Chaya had its beginnings as a fish shop, so its ingredients are fresher than anywhere else. And, because only ingredients specially chosen by the chef are used, you can't go wrong with whatever you eat.
Even out of the many menu choices, we especially recommend the Kita no Zeitakudon (3280 yen). This luxurious gem of a dish is lined up together with over 10 ingredients, starting with salmon roe, Botan shrimp and sea urchin. Definitely check it out!
【Details】
Address: 1-7 Minami 3 Jo-Higashi, Chuo-ku, Sapporo City, Hokkaido Prefecture
Business Hours: 7:30am - 5:30pm
Weekly Holidays: special occasional holidays (check before going)
Shiroi Koibito Park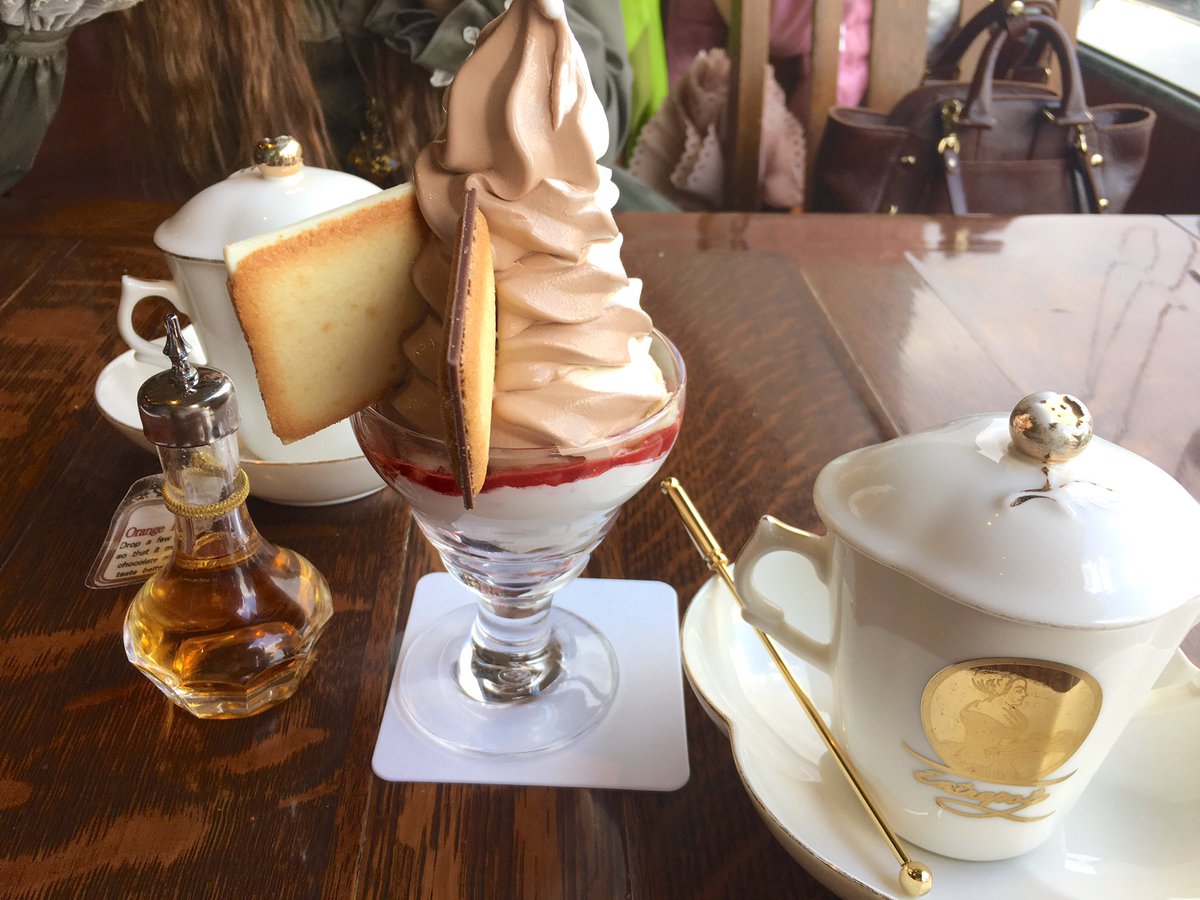 Reference: https://twitter.com/kanon0118/status/919437351448743937
So far we've only introduced meals, but Hokkaido is also famous for its delicious sweets. The one sweet treat we'd recommend more than anything at Shiroi Koibito Park is the ice cream topped with "Shiroi Koibito".
Shiroi Koibito is the name of a famous baked sweet, widely known in Japan as being the standard Hokkaido souvenir. The rich ice cream made from freshly produced milk goes well with the crispy texture of Shiroi Koibito. You can purchase Shiroi Koibito sweets at the shop inside the park, so please ensure you check it out.
【Details】
Address: 2-13-30 Miyanosawa 2 Jo, Nishi-ku, Sapporo City, Hokkaido Prefecture
Business Hours: 9:00am - 6:00pm
Weekly Holidays: none
And now for onsen: Noboribetsu Onsen Dai-ichi Takimotokan, chosen as one of the top 100 onsen in Japan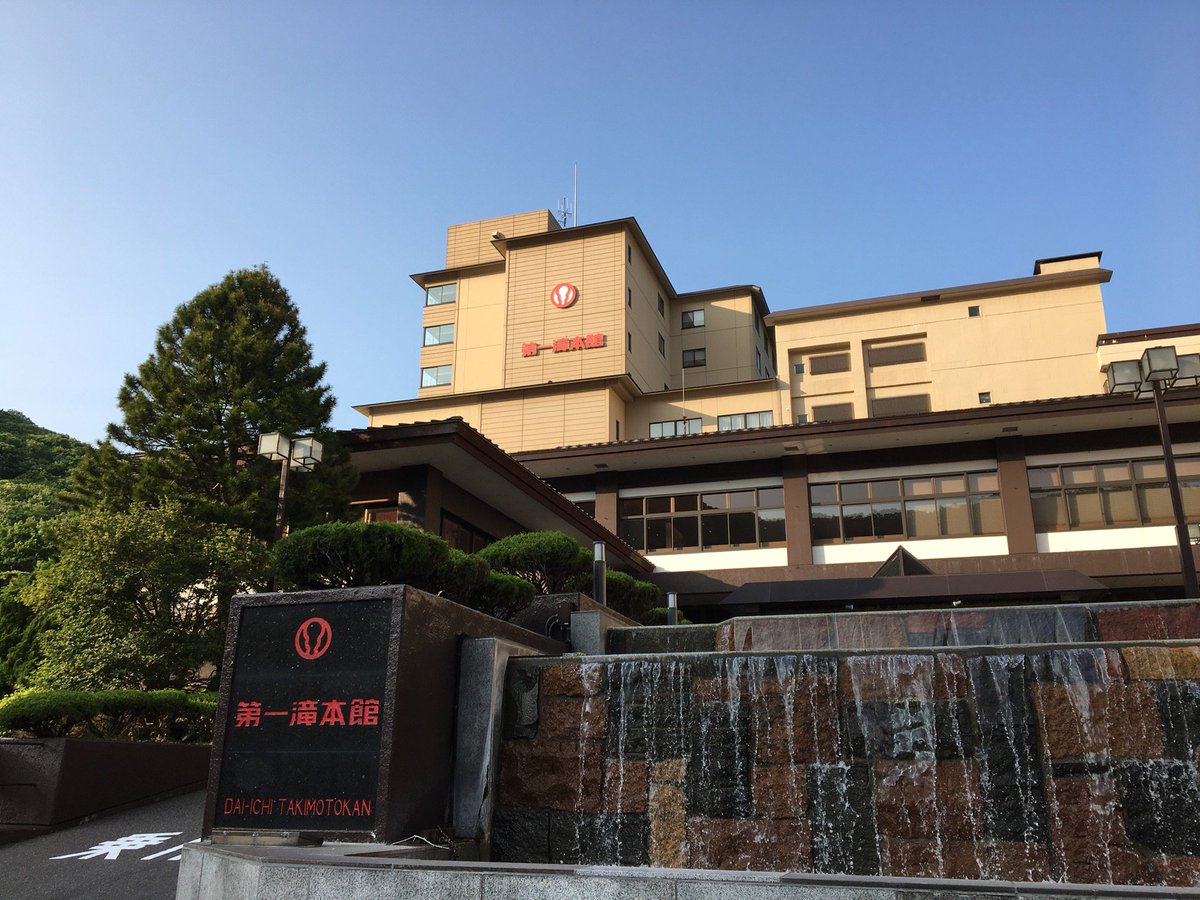 Reference: https://twitter.com/pul_haru/status/880703781977149440
When you feel tired from your travels in Hokkaido, melt away your troubles at Noboribetsu Onsen Dai-ichi Takimotokan. Noboribetsu Onsen Dai-ichi Takimotokan in Hokkaido Prefecture's Noboribetsu City is one of the most popular hot spring facilities in Japan and is visited by approximately 2.8 million tourists throughout the year.
You can even enjoy 18 types of onsen here, such as a whirlpool bath known for its highly effective massaging effects and the beauty bath which helps achieve smoother skin. Also, thanks to set plans offering a day trip to the baths and a dinner buffet (priced from 6500 yen), even if you just happen to be stopping by you can easily enjoy the natural hot springs.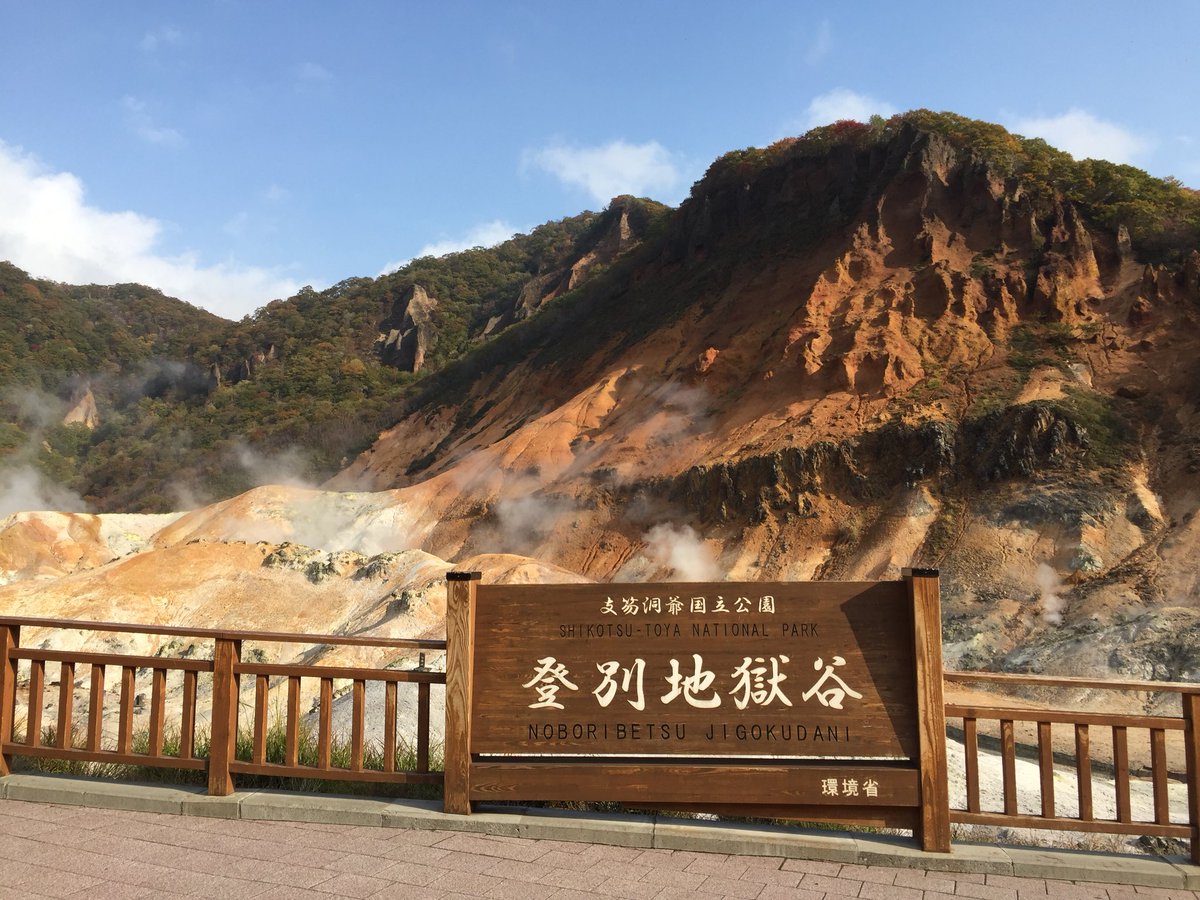 Reference: https://twitter.com/tenno_onnet/status/917289962701066240
Noboribetsu Onsen Dai-ichi Takimotokan's appeal lies in the spring water that bubbles out from every direction. Most of these hot water flows bubble out from a crater called Jigokudani (also known as Hell Valley). Jigokudani, the remains of an explosion crater formed by a volcanic eruption approximately 10,000 years ago, spouts 3000 liters per minute of bubbling onsen water.
This natural hot spring water bubbling from the volcano effectively relieves fatigue, backpain, shoulder stiffness and more - perfect for melting away travel fatigue. Also, from the wide glass windows of the bath, the sprawling view of the smoke from the top of the volcano is a sight to see. Enjoy a relaxing time as you experience Hokkaido's remarkable natural landscape.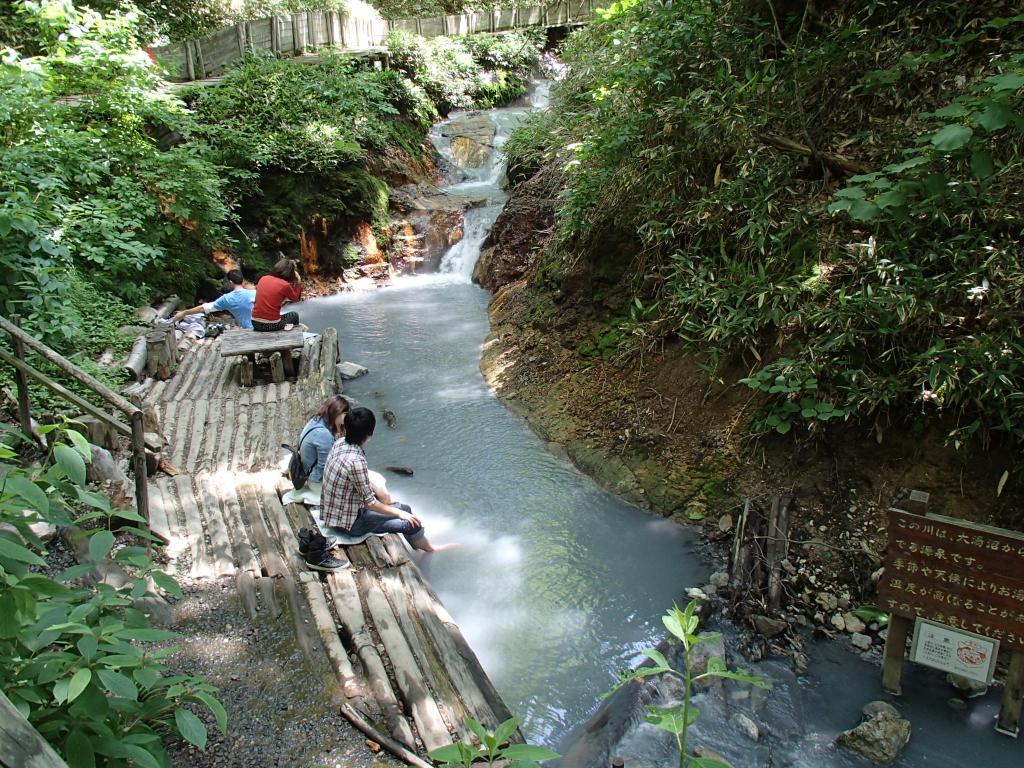 Reference: https://twitter.com/IshiharaE/status/612215018340249600
Around Jigokudani, located close to Noboribetsu Onsen Dai-ichi Takimotokan, there is a walking path where you can enjoy a walk while watching the silently billowing steam over the water. While you're out for a walk, we recommend trying the Natural Footbath.
This is an extremely popular sightseeing spot where you can easily enjoy the hot spring waters that flow from Lake Oyunuma. There's a wooden deck is set up on the river, so how about doing a bit of forest bathing there as all your worries fade away? There aren't a whole lot of places where you can try a natural foot bath, so this will definitely become a precious memory of your Hokkaido travel experience.
【Details】
Address: 55 Noboribetsu Onsen-cho, Noboribetsu City, Hokkaido Prefecture
Check-in 2:00pm, Check-out 10:00am
Weekly Holidays: none
Souvenirs you should buy during your Hokkaido travels


Reference: https://twitter.com/15_macaron_love/status/922055265452670976
ROYCE'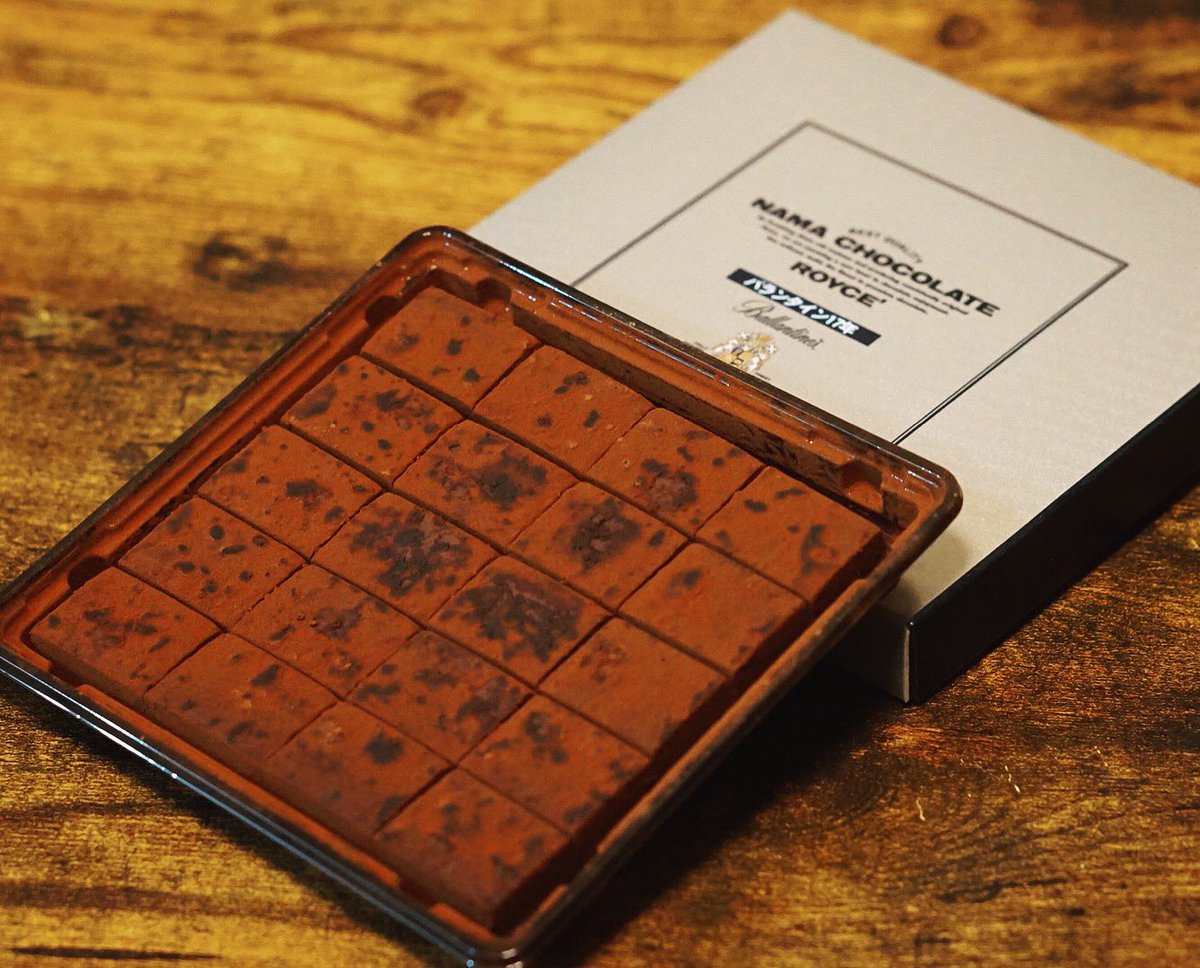 Reference: https://twitter.com/cloudchair/status/829213840839733248
If you're buying souvenirs for your friends and family, we recommend ROYCE' chocolate. You'll be addicted to the sweet delicacy and depth of this chocolate that melts in your mouth, made together with fresh cream from Hokkaido.
Various types of fresh chocolate flavors are sold, including classics like "Au Lait" and "Mild Milk", as well as ever changing seasonal flavors such as chestnut and grape. Potato Chip Chocolates, chocolate-coated potato chips, are another souvenir popular with visitors to the prefecture.
【Details】
Place: Domestic Terminal Building 2F
Business Hours: 8:00am - 8:00pm
Weekly Holidays: none
Rokkatei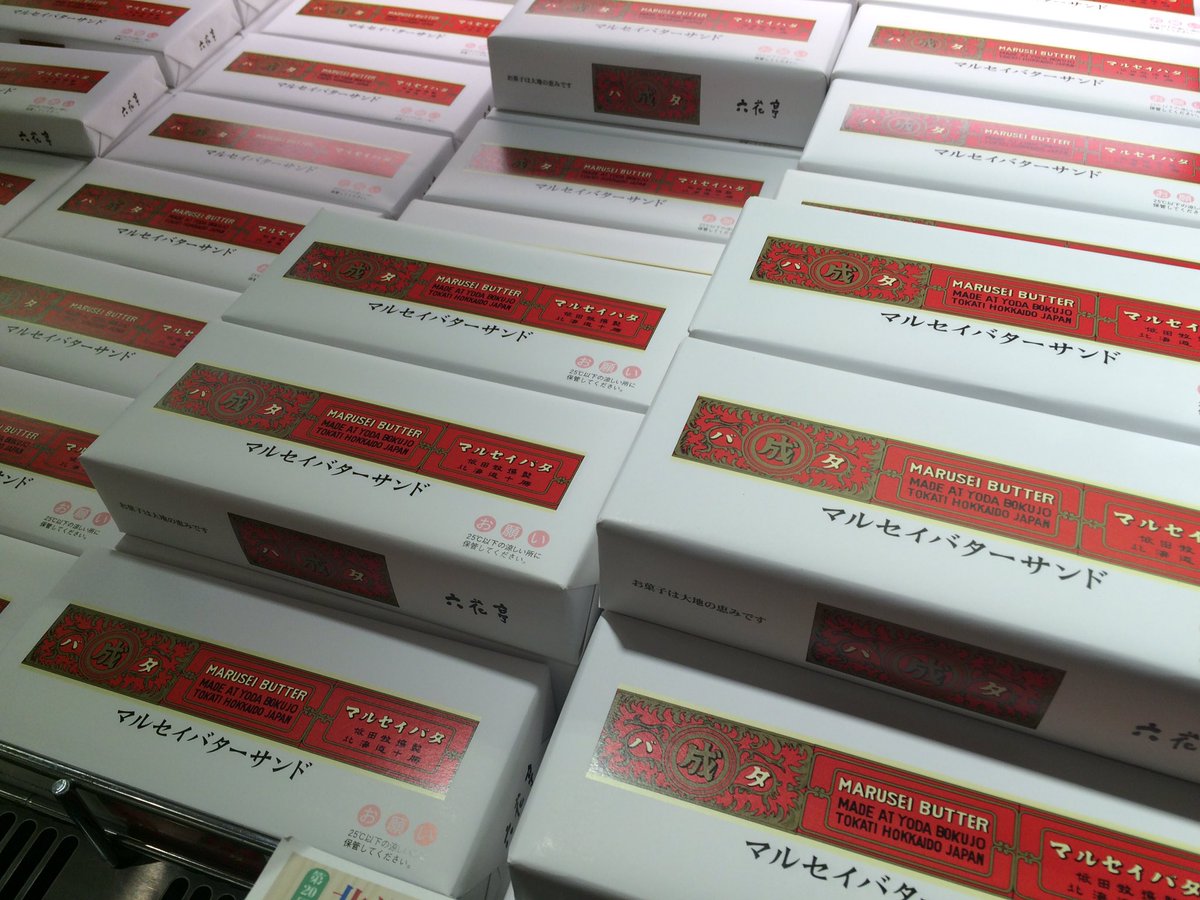 Reference: https://twitter.com/TOKYU_DEPT_ty/status/924487120860856320
Rokkatei is another souvenir representative of Hokkaido. Among numerous products, the Marusei Butter Sandwich stands as one of the most popular and famous Rokkatei items. The Marusei Butter Sandwich is a crispy biscuit with white chocolate, raisins and Hokkaido's buttercream made from 100% Hokkaido fresh milk sandwiched inside.
All the ingredients match perfectly, and together they are so delicious you might eat enough to make yourself sick. We also recommend Strawberry Chocolate, which a freeze-dried strawberry coated in chocolate.
【Details】
Place: Domestic Terminal Building 2F
Business Hours: 7:00am - 8:30pm
Weekly Holidays: none
Jaga Pokkuru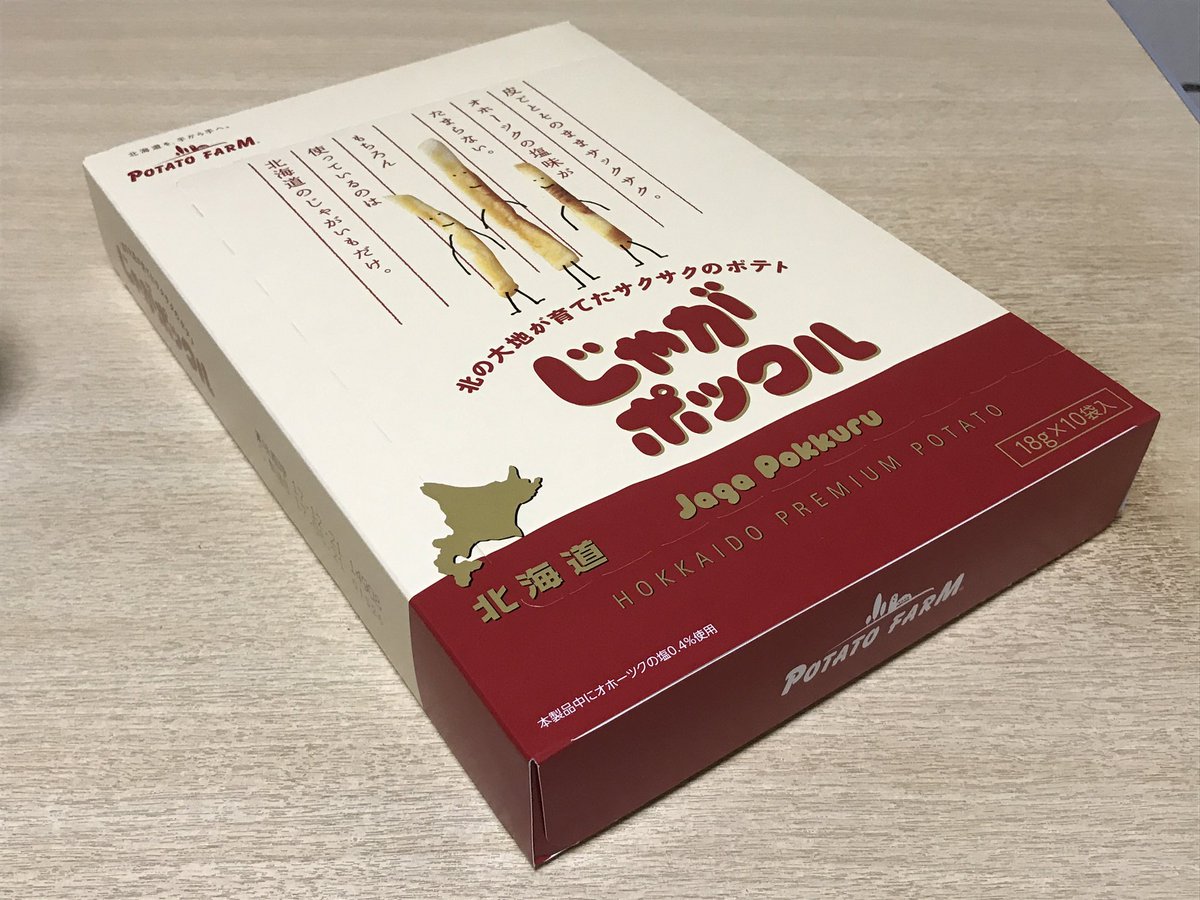 Reference: https://twitter.com/sasadango_tyo2/status/903984712900677632
Next up - it goes without saying that Jaga Pokkuru is also another Hokkaido staple. This product, made using only 100% carefully-selected Hokkaido potatoes, has a crisp texture that can't be matched by other potato snacks.
The delicate sweetness, light texture of the potatoes and just the right amount of salt together make an outstanding flavor. This is perfect for a souvenir gift for workplaces with lots of employees, as one box contains 10 small bags. You'll also appreciate this souvenir because it won't be too bulky for your suitcase.
【Details】
Place: Domestic Terminal Building 2F
Business Hours: 8:00am - 8:00pm
Weekly Holidays: none
Winter travel in Hokkaido offers a wide array of appealing sightseeing spots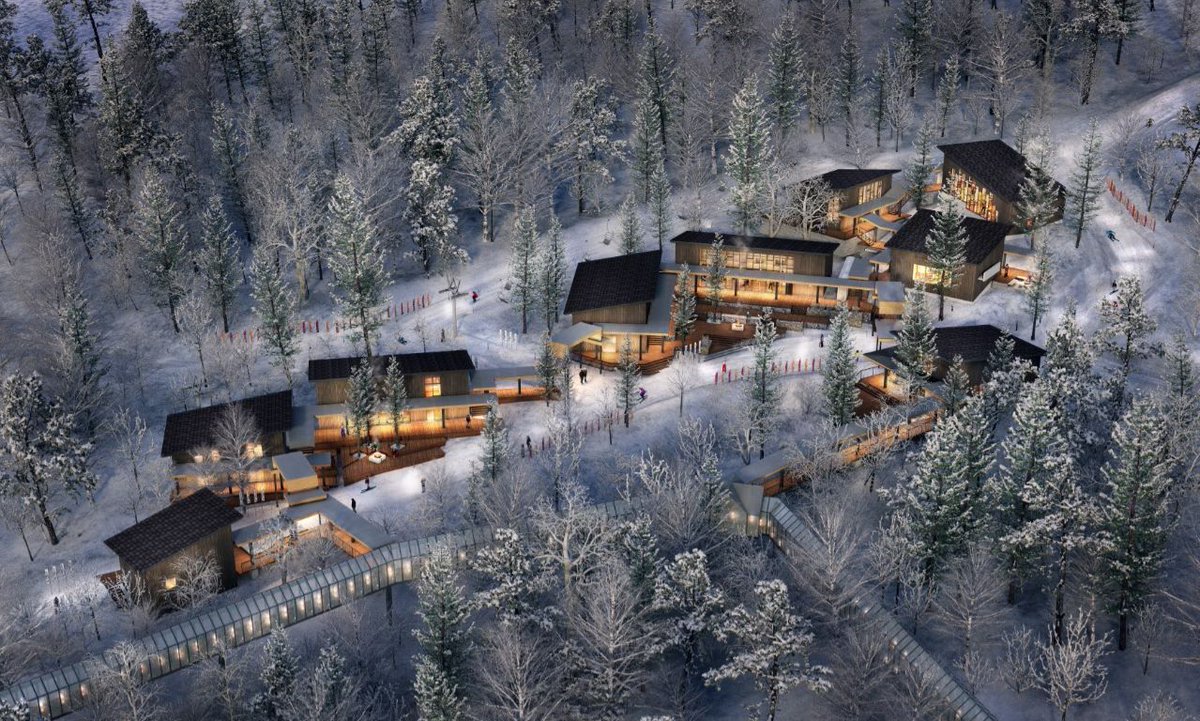 Reference: https://twitter.com/TabiraiHokkaido/status/924108484550864896
So that about does it! Are you excited for your Hokkaido trip yet? We've finished our introductions here, but there are still many more events and sightseeing spots that you can only experience in Hokkaido during winter.
Access to Hokkaido from Tokyo can be made via a mere 4.5 hour shinkansen ride, so why don't you try making some amazing memories traveling in Hokkaido this winter?
Pricing information and schedule may not be up to date and are subject to change without notice. Please check before your trip.