Sapporo Kokusai Ski Resort is an authentic ski resort located about an hour from Sapporo city. Despite its close proximity to urban areas there's plenty of snow cover, so you can enjoy fluffy powder snow whenever you like. Thanks to its ease of access from within Sapporo city, you can arrive in around 2 hours - even coming directly from the New Chitose Airport. An urban ski resort with easy access to nearby sightseeing spots and well-organized day trip facilities, Sapporo Kokusai Ski Resort is a place filled with charm and convenience to boot.
The snow quality rivals that of the Kiroro Ski Resort!


Even though it's located within Sapporo city, similar to Kiroro Ski Resort it faces onto Mt. Asari, a heavy snow zone. As the amount of snow accumulates throughout the entire season, there's a rather high stability in snow quality, even when compared to other Hokkaido ski resorts.
This is a popular slope where skiers wanting to enjoy fresh snow at the very beginning of the season come together. It's often compared to Kiroro Ski Resort, with which it has similar features.
Though it comes up short in terms of slope scale and course variety, Sapporo Kokusai comes out on top thanks to its ease of access and stability in weather conditions.
As it's located on the east side of the mountain, there are lots of sunny days. However, this doesn't change the fact that it's a heavy snow zone - so don't let your guard down. Snowstorms can also occur when things get rough.
There are even some seasoned skiers who make their decision about whether to go to Sapporo Kokusai or Kiroro Ski Resort based on the day's weather.
Wide, easy-to-ski slopes


There are a total of 7 courses. Although it's a slightly cozy slope, the course width overall is wide, so it feels great to slide down.
The intermediate skier-oriented course occupies half the overall slope, so those skiers with a bit of experience can fully enjoy any course they like.
A practice area prioritized for beginners and a long course with a gentle slope are also available, so those who have never even touched snow before can rest assured.
There's a snow park where you can enjoy tubing and sledding, and an open snow-playing area for small children, making for a host of areas where you can get hands-on experience with snow.
However, there aren't many courses that advanced skiers can really sink their teeth into, so those with confidence in their skills may find this resort a bit lacking.
A long course that people of any skill level can enjoy!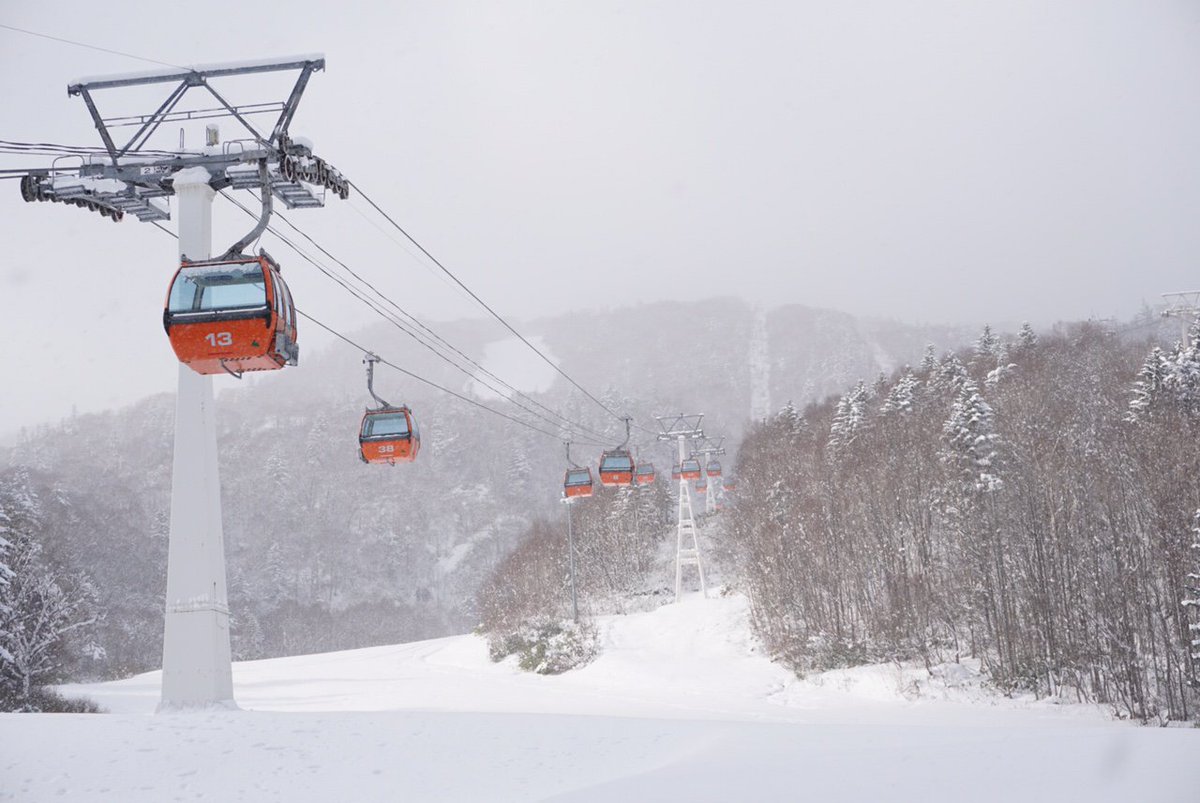 Reference: https://twitter.com/sapporo_KOKUSAI?lang=ja
Sapporo Kokusai's slope has a total of 7 ski lifts, and the main method of transportation is the gondola lift that runs directly from the foot of the mountain to the summit.
There are 3 main courses that run from the mountain summit to the foot - one each for beginner, intermediate, and advanced skiers.
Accordingly, upon reaching the summit, people of any ability can enjoy a long straight run all the way down to the bottom.
The long course, with a sliding distance of 3.6 kilometers, is located within the beginners' area that runs from the Forest Trail to the Fairy Tale Trail. As there are many gentle slopes, it's a good idea to practice here first.
This long course is easy to slide on and has great snow quality, giving many people the feeling of having improved their skills.
A host of services available at the Ski Center
Ski sets are available for rental at the rental shop, and skis can be exchanged for a snowboard - or vice versa - as well. With a full assortment of skiwear sizes available, you can show up empty-handed and still enjoy a great skiing experience.
As day trip visitors are the primary target, there are a host of facilities and services set up within the building.
Both the 1st and 2nd floors of the Ski Center have Wi-Fi available, and the kids room and rest area can be used for free.
The specialty shop Gerespo features a full line-up of accessories such as goggles, gloves, and neck warmers. There are many other stores as well, including an assortment of many original goods that can't be bought anywhere else.
Enjoy a blissful time at Jozankei Onsen


As Sapporo Kokusai Ski Resort sees a lot of day trip skiers, there are hardly any accommodation facilities located around the slopes. However, a famous hot springs village, Jozankei Onsen, can be reached in around 30 minutes by car.
Some of the most highly rated onsen ryokan within Hokkaido are located here, and it's by far the best place to relax and soak in the hot spring while enjoying the beautiful surrounding scenery. Many of the day trip skiers stop by the onsen on their way home.
For those wanting to stay the night, it's about 30 minutes from the ski resort - a great convenience. Visitors that come to ski and pair it together with some sightseeing are on the rise.
Aside from the onsen, there are many activities in the area for enjoying the great outdoors. Stopping by during your ski trip might be a lot of fun.
Easy access from major cities


Sapporo Kokusai really has a lot going for it in terms of access - it's accessible from both Sapporo Station by bus (90 minutes), and from Otaru Station (40 minutes). Since it's easy to go to from Sapporo, the main tourist city in Hokkaido, it's easy to incorporate into travel plans.
If coming directly from New Chitose Airport, we recommend riding the Liner Bus (requires reservation). It takes 120 minutes to reach the ski resort, which is about the same as going by train and bus.
An authentic ski resort geared towards day trips - a rarity in Hokkaido


For Hokkaido, which is generally filled with bustling lodging-type ski resorts, Sapporo Kokusai is a rare kind of resort that comes fully realized with services aimed at day trip skiers.
The rental services are well-stocked, and the price ranges are reasonable. If you plan to stay, there is the Jozankei Onsen, so you'll be able to get in some sightseeing and quality onsen time too. With great access from Sapporo's urban center, it goes without saying that this is one of Hokkaido's foremost ski resorts in terms of convenience.
Sapporo Kokusai Ski Resort - where even those who come to Hokkaido just for sightseeing purposes can enjoy a hassle-free ski experience. Why not drop by if you'd like to check out some authentic snow?
Pricing information and schedule may not be up to date and are subject to change without notice. Please check before your trip.