The greatest draw of Hodaigi Ski Resort, which is located in Minakami Town, Tone-gun of Gunma Prefecture, is its great accessibility, at less than an hour away from Tokyo by Joetsu Shinkansen. There's a free shuttle bus, always running, that goes from Jomo-Kogen Station - the nearest station - to Hodaigi Ski Resort. There's no need to worry about wasting time, as going from the station to the ski resort is a simple, easy process. Hodaigi Ski Resort is located at a high elevation, with a maximum elevation of 1,400 meters, which means on sunny days you'll be able to look out onto the snowy white mountains of the Tanigawa Mountain Range. The contrast of the clear blue skies and the stark white snow makes for an extraordinary sight. And it's not just the view, either - the ski resort also boasts a wide variety of courses. Hodaigi Ski Resort is very popular, with tourists - beginners to advanced skiers alike - frequenting the resort every year.
Drop off your kids at the Childcare Snow Fairy (Day-care center)

Reference: http://hodaigi.jp/page/snowfairy
Going on ski trips with small children can limit your selection of ski resorts, as it's not like you can ski down the slopes while carrying a baby on your back.
There are no doubt many people who go to a ski resort only to find themselves having to take care of their children the whole time. At Hodaigi Ski Resort, there's no need to worry.
This is because the ski resort offers a day-care center, known as Childcare Snow Fairy.
For 2,200 yen per hour (includes the price of snacks), a dedicated nursery school teacher will take care of children between the ages of 6 months and 6 years old. That way, you can ski worry-free.

Reference: http://hodaigi.jp/page/snowfairy
It's good to provide the day-care center with a change of clothes (underwear, tops/bottoms for clothing, socks, etc.), as well as diapers, baby wipes, and their favorite snacks/baby food.
【Details】
Childcare Snow Fairy
Opening Hours: 9:00 am - 4:00 pm
Long course with a longest-run distance of 2,600 meters

Reference: http://hodaigi.jp/slope-guide/
One of the reasons Hodaigi Ski Resort is so popular is its wide variety of ski courses. There are over 17 courses in total. For beginners, we recommend the Tampopo Course, which is a long, 1,050-meter course.
It has gentle slopes and some waves, meaning you can enjoy yourself while getting used to the snow. This course is also fairly wide, which means you don't have to worry about running into the other skiers.

Reference:https://twitter.com/K_yuta0712/status/835396876413198336
For experienced skiers/snowboarders, we recommend the Nandaira Course. Hop off the ski lift, and from the 1,400-meter summit, you'll be able to look down upon a panoramic view of Mt. Tanigawa, Mt. Asahi, and the source of the Tone River. The mountains that stretch out before you feel so overwhelming it almost feels like you're getting swallowed up by them.
Going down the slopes while looking out onto the scenery like that is an amazing experience, and provides the sort of refreshing feel that you can't really get with other sports. The course itself is long, at 1,400 meters, and so you'll be able to coast down a long distance as well.
Play in the snow at the kids-only Kids Land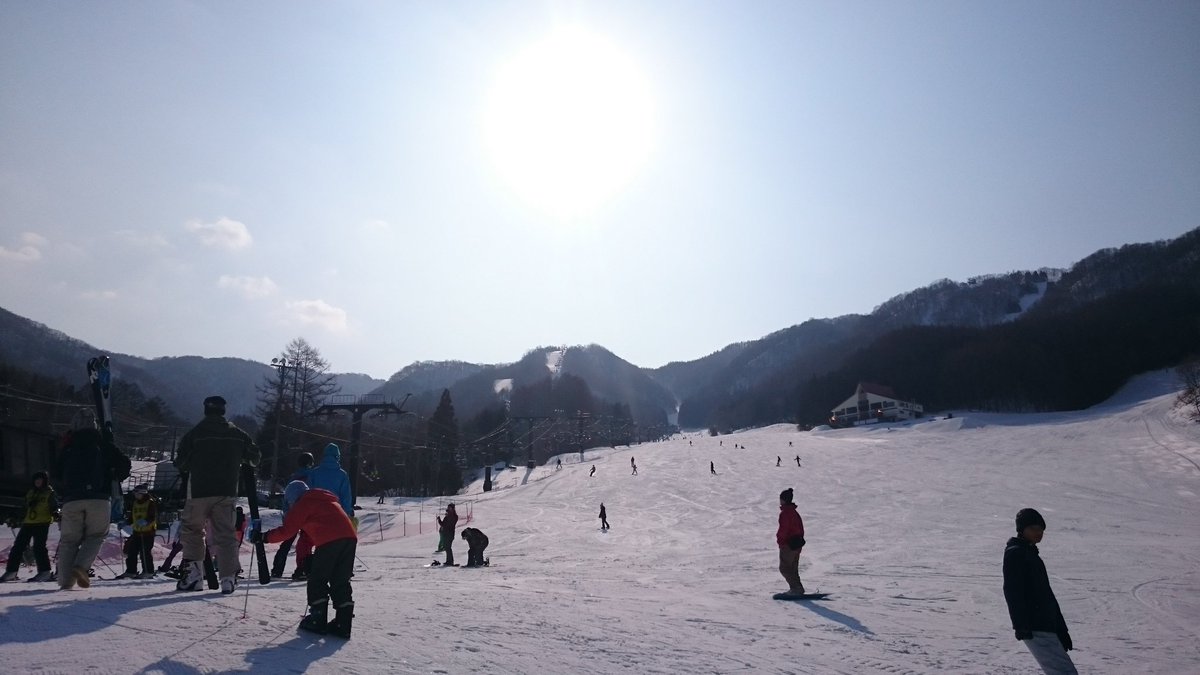 Reference:https://twitter.com/415Hama/status/703733782419939328
On the slopes of Hodaigi Ski Resort, is the kids-only play area Kids Land. Children who are not yet used to the snow or who can't ski or snowboard can have plenty of fun in the snow at Kids Land.
Because Kids Land is surrounded by a fence, there's no need to worry about your kids running into the other guests skiing down the slopes. Here, kids get on sleds and ride around the snow, make snowballs and have snowball fights - and the area is filled with the joyful sound of the kids' joyful laughter.
Tired? Take a breather at Gunma-chan Terrace

Reference: https://www.pakutaso.com/20121241363post-2284.html
Going up on the ski lift, then going down the slopes, and rinse and repeat - and all the while carrying your skis and snowboards - can actually take quite a bit of energy. It can be even worse since you're walking on the snow, and using a lot of muscles you don't normally use. So much so that you feel exhausted after only an hour on the slopes.
When this happens, you should take a breather at Gunma-chan Terrace.
Its interior, which is decorated with brown-themed furniture for a sophisticated feel, is also heated - so you can rest while warming yourself up. You can buy drinks and food (snacks) from the small store inside the building, or you can sit around and talk to your family, or just look outside and doze off while gazing at the scenery.
The building also comes equipped with cribs and nursing rooms, making this a great place to go to if you have small children as well.
【Details】
Gunma-chan Terrace
Opening Hours: 9:00 am - 4:00 pm
Eat the Gunma local specialty Joshu-mugibuta pork curry at Cafeteria Pegasus

One of the joys of a ski trip is the food.
There are many restaurants on the slopes of Hodaigi Ski Resort, including Hodaigi Shokudo, with its ramen, tempura, and motsuni (tripe stew) meals, and Curry House Hotaka, with its thick-cut Sangenton (a brand of pork) katsu curry.
Of these, the one we most recommend is Cafeteria Pegasus. The most popular item on the menu is the cheese curry. However, we personally would like to recommend the Joshu-mugibuta curry, which uses a brand of pork known as Joshu-mugibuta pork, a Gunma specialty.
Joshu-mugibuta pork has very little smell, with more and more umami flavor from the meat with every bite - a real appetite-stirrer. It goes perfectly with the slightly spicy curry, and is so delicious you'll never forget it once you've had it.
The restaurant also offers Joshu-mugibuta pork rice bowls and hayashi rice (hashed meat over omelette), and other dishes popular amongst both children and adults alike. Definitely check it out!
【Details】
Cafeteria Pegasus
Opening Hours: 10:00 am - 4:00 pm
Take your used lift ticket and enjoy a discount at a day-trip onsen facility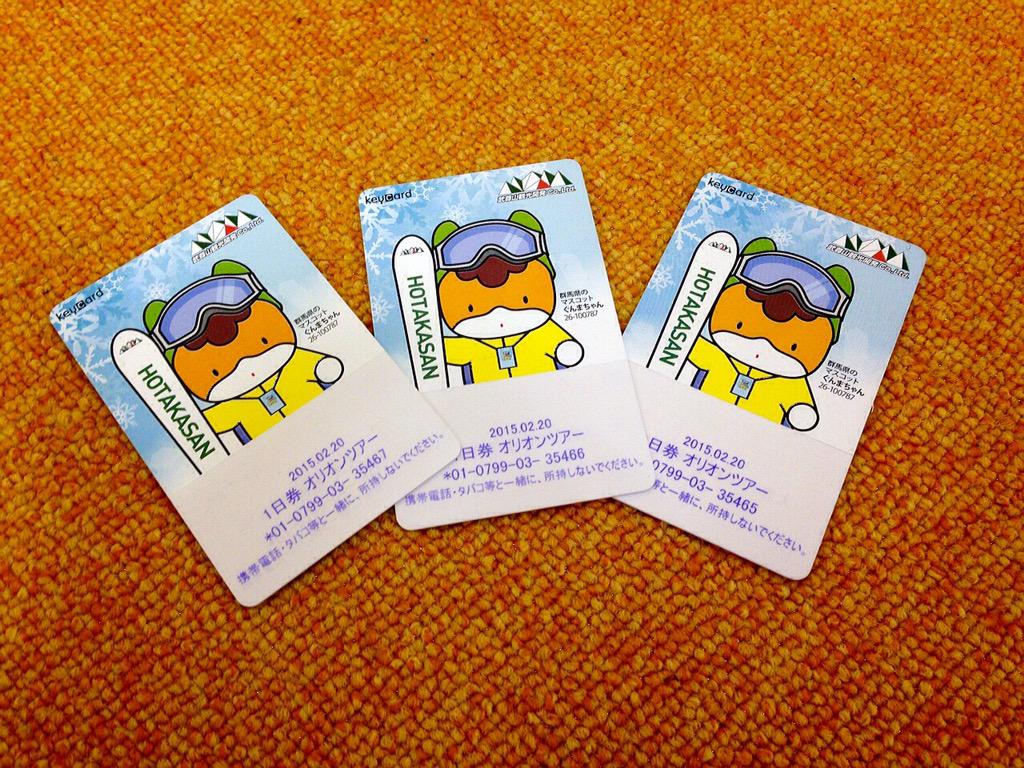 Reference:https://twitter.com/yupuio/status/568719161259466752
Don't throw away your lift ticket for Hodaigi Ski Resort (One-Day Pass, Half-Day Pass) once you use it.
You can show your used lift ticket (must be from that day) to restaurants, gift shops, day-trip onsen facilities, and even ryokan around Minakami Town to receive discounts on various goods and services.
There are all kinds of services that you can only get as a guest of Hodaigi Ski Resort - for instance, at Amenimomakezu, a pork shabu-shabu specialty restaurant, you can get Gunma-mugibuta pork - a Gunma Prefecture specialty - at a 10% discount, and at the Minakami-kan, a high-end, long-standing ryokan established in 1927, you can enjoy a standalone onsen experience for only 1,000 yen (with towel).
The services offered are varied - at Japanese Restaurant Sansui, you'll get a free dessert after your meal. Though the discounts vary by onsen facility/restaurant, we recommend you take the opportunity to try it out.
Minakami Hotel Juraku - chock-full of family-friendly services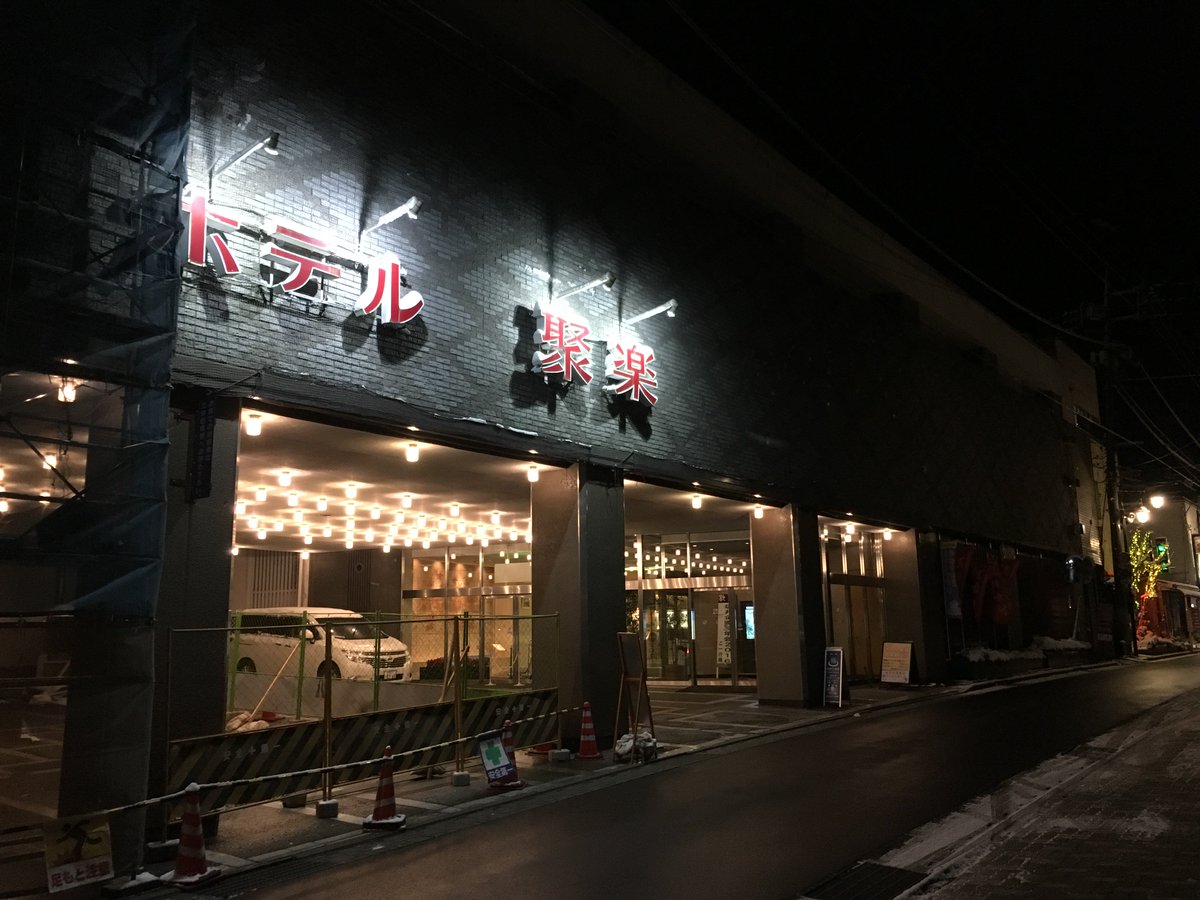 Reference:https://twitter.com/wogu/status/807579656920498176
Now that you're here in Hodaigi Ski Resort, why not spend two or three nights savoring this time with your family? For this, we recommend Minakami Hotel Juraku. Breakfast and dinner are both provided buffet-style, with the most famous of their dishes being the roast beef provided at dinner-time.

Reference: http://www.hotel-juraku.co.jp/minakami/category03/
The roast beef, which is made with a secret recipe that's been the same since the hotel's establishment 40 years ago, is soft and full of meaty umami flavor. It is draw-droppingly good.
There are also all-you-can-drink plans, so you can drink just enough to be able to sleep very well at night.
There's also a mochitsuki (mochi-pounding ceremony) workshop held every night. Freshly pounded mochi is soft, but very bouncy and resilient, and has a taste you won't forget once you've had it. It's sure to be a great memory for children and adults alike.
【Details】
Minakami Hotel Juraku
Address: 665 Yubara, Minakami-machi, Tone-gun, Gunma Prefecture
Opening Hours: Check-in at 2:00 pm, check-out at 10:00 am
Enjoy a casual, light-hearted ski trip

Reference:https://twitter.com/PANDA1RANRAN/status/738884179908120576
Hodaigi Ski Resort, located in Minakami Town, Gunma Prefecture, has not only a wide variety of courses, but a variety of things that make it very family-friendly and great fun for kids and adults alike, including a day-care center and nursing rooms.
This winter, why not head to the slopes with your kids for the first time?
【Details】
Hodaigi Ski Resort
Address: 3839-1 Fujiwara, Minakami-machi, Tone-gun, Gunma Prefecture
Opening Hours: 8:30 am - 4:30 pm
Pricing information and schedule may not be up to date and are subject to change without notice. Please check before your trip.