The Giant Skiing Area, which is located in the Shiga Kogen area, is adjacent to multiple ski resorts, including the Hoppo Bunadaira Skiing Area, Hasuike Skiing Area, and the Maruike Skiing Area. So if you have a Shared Lift Ticket, you'll be able to go freely to any of these ski resorts. The greatest thing about the Giant Skiing Area is its thrilling course, with a maximum incline of 34 degrees. Since it has a maximum run distance of 1,000 meters, you can just ski long-distance while feeling the cold wind on your body. If you want to ski your heart out when there's less people, you might want to try heading to the ski resort right after it opens, around 8:30 am - 9:30 am. Many reviewers also say that this ski resort has amazing food. Why not treat yourself to some local specialties while taking a break from the slopes?
Go freely back and forth to the Hasuike Skiing Area and Maruike Skiing Area with the Shared Lift Ticket


Reference:https://twitter.com/AppendMikuMode/status/821576514655268865
Most of the courses in the Giant Skiing Area, which has been certified by the International Ski Federation, have steep slopes geared towards intermediate- and advanced-level skiers. These courses also have some dynamic ups and downs, which makes for a thrilling skiing experience. They have been the site of many international tournaments, from the World Cup to the Japan Series, and are very satisfying to ride down.
If you're worried that it might be difficult for you as a beginner, fret not - the ski resort also offers lessons geared towards beginners.
There are also courses geared towards absolute beginners, so no need to worry. We particularly recommend the go-around course located around the middle of the slope. It's a bit shorter in comparison to the intermediate- and advanced-level courses, but the slope is gentle and there's less people, meaning even beginners who aren't yet used to the snow can have a lot of fun skiing.
Once you get used to skiing on the go-around course, it might be good for you to head to the Hoppo Bunadaira Skiing Area, the Hasuike Skiing Area, the Maruike Skiing Area, or the Sunvalley Skiing Area. These four ski areas offer a wide variety of courses, like the forest courses, which allows you to ski amongst the trees in the forest, as well as a course with moguls built along the slope of the mountain. As such, you can ski to your heart's content without getting bored.
Extraordinary view from near the summit!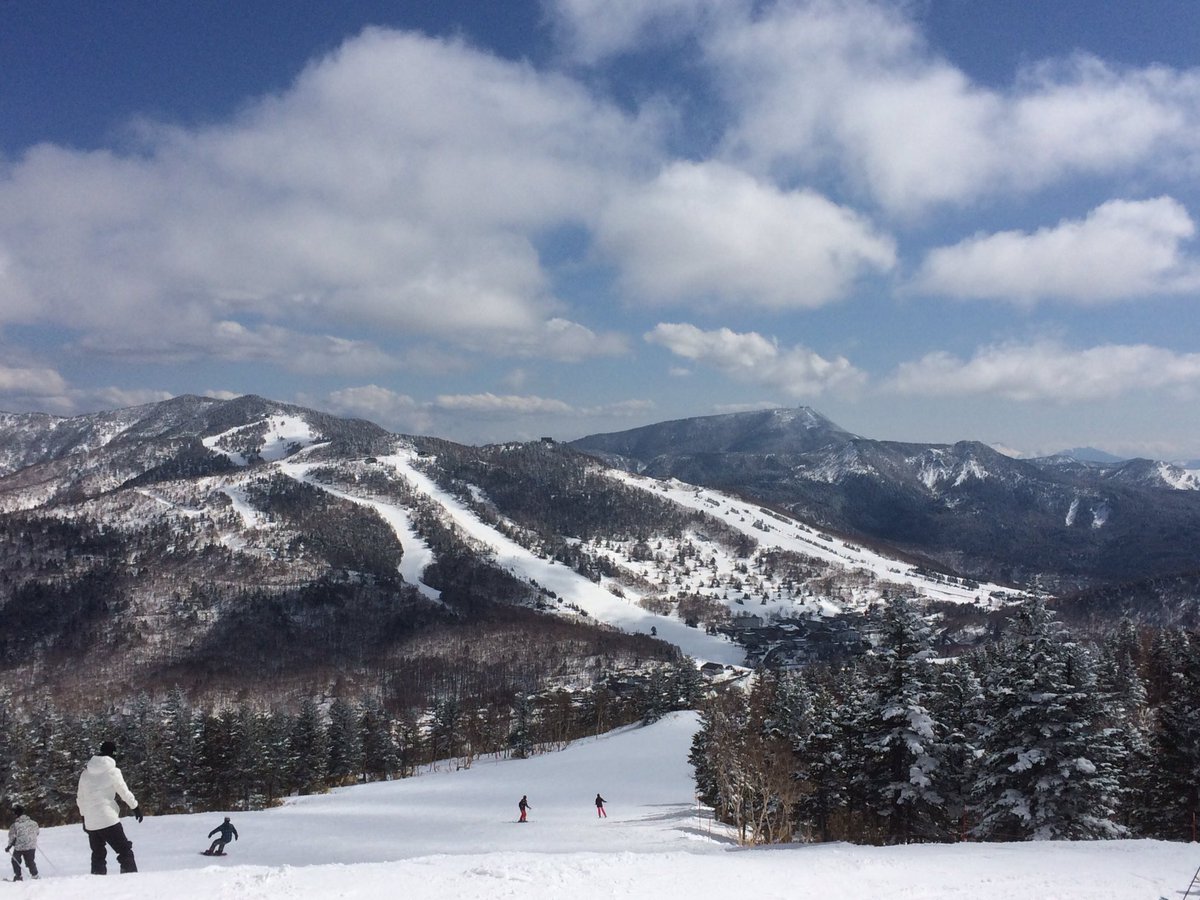 Reference:https://twitter.com/oz0214/status/713707810727469056
One more perk of the Giant Skiing Area, which is covered all around in dense forest, is the scenery silhouetted against the deep, vibrant blue of the clear sky. The clear blue sky, which stretches as far as the eye can see, and the large, fluffy clouds silhouetted against it, going languidly by on the breeze - it all feels close enough to touch.
Pillars of sunlight will sometimes emerge from breaks in the clouds, and light up the mountains. Try skiing in this most amazing of locations while feeing the crisp cold wind on your body.
Aspen Shiga - amazing apple pie that will make you forget about how tired you are


Many skiers love the homemade apple pie at Aspen Shiga. This apple pie, which makes liberal use of Shinshu apples, is a popular dessert item - a hidden gem - at the Giant Skiing Area. The crisp, flaky crust, baked to a beautiful golden brown, and the large chunks of apples create an amazing harmony of flavors.
The sweet, gentle flavor of the candied apples will work wonders upon a body tired from a day of skiing. The restaurant also offers all kinds of homemade bread, all with original dough, like cream buns and baked sweet potato pies. Sit at the window seat, look out over the slope, and spend a blissful few moments in relaxation.
【Details】
Aspen Shiga
Opening Hours: 11:30 am - 3:00 pm
Great reviews for the sauce katsu rice bowl, made with Shinshu Kome-pork


The sauce katsu rice bowl at Hotel Berg is the most popular food item at this ski resort, with many rave reviews. The Shinshu Kome-pork is a local Nagano specialty. For this dish, it is made into katsu and placed atop the rice, to the point where it almost hangs off the side of the bowl. Though it's not very fatty, it's very juicy, with an umami flavor that gushes out with every bite.
The slight sweetness of the sauce really brings out the umami flavor of the meat, and before you know it, you'll find you've finished the whole dish. The sauce katsu rice bowl is 1,750 yen, which is fairly expensive by ski slope standards, but it comes in generous portions, with a tonjiru (pork miso soup) made with tons of highland vegetables, pickled nozawana, and boiled seasoned mountain vegetables. The mellow aroma of the miso and its gentle flavor will ease the aches and pains from your long day of skiing.
【Details】
Hotel Berg
Opening Hours: (1) 11:00 am - 2:30 pm, (2) 1:30 pm - 3:00 pm
Enjoy a nice refreshing skiing experience on a dynamic, advanced-level course!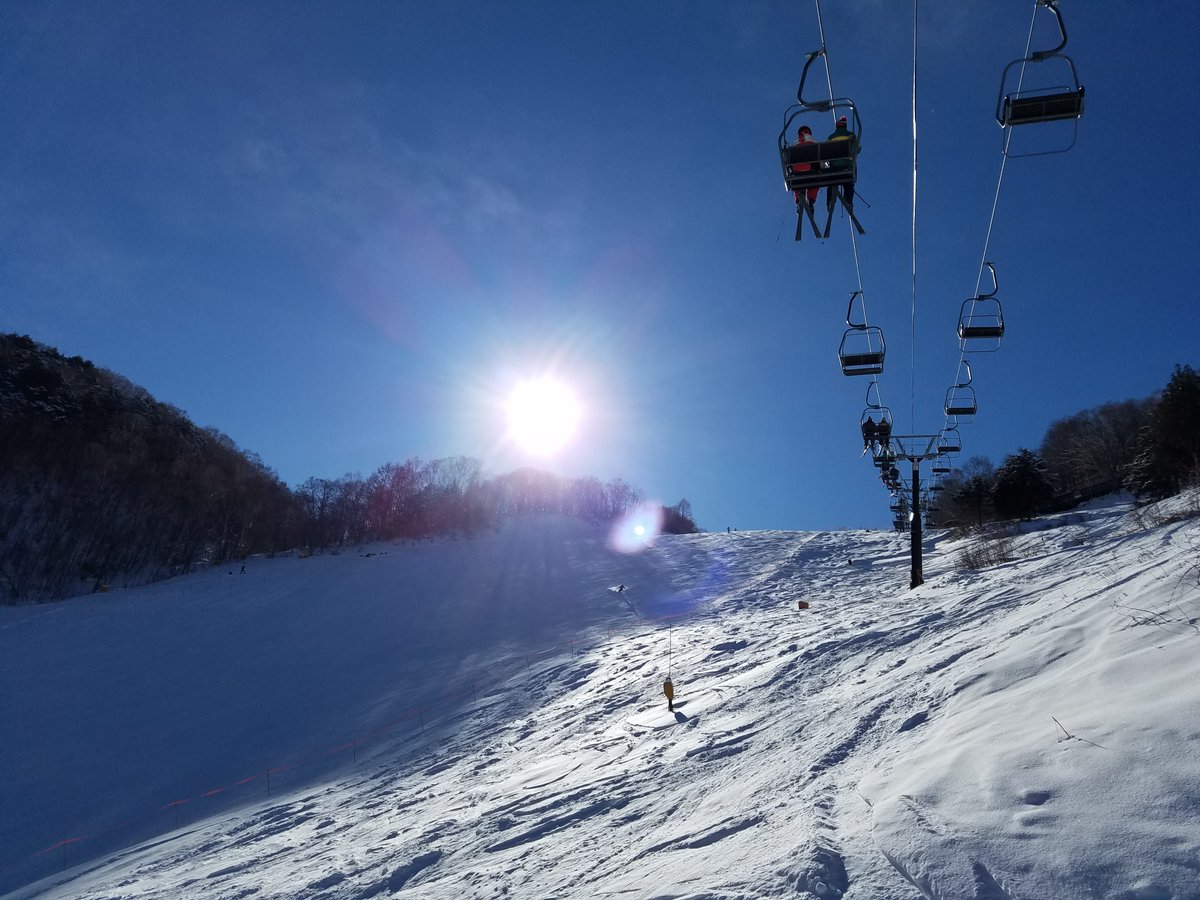 Reference:https://twitter.com/shiga_resort/status/952081183373864961
The Giant Skiing Area is a ski resort that anybody can enjoy to the fullest - from absolute beginners who have never even touched snow before to the intermediate- and advanced-level skiers who want to work on their technique. There's also a lot of onsen and tourist destinations near the ski resort, so it might be a good idea for you to experience some Japanese culture as well.
【Details】
Giant Skiing Area
Address: 71-48 Hirao, Yamanouchi-machi, Shimotakai-gun, Nagano Prefecture
Opening Hours: 8:30 am - 4:30 pm
Pricing information and schedule may not be up to date and are subject to change without notice. Please check before your trip.
Related ski resorts
No. 7
Ski Resort
No. 7
Ski Resort