Located in Gunma Prefecture, Kusatsu is one of Japan's leading tourist destinations, well-loved by many as an onsen village retreat since long ago. In addition to the regular Japanese tourists that pass through, the town has recently seen a large number of tourists from overseas paying a visit. Kusatsu has lots of things going for it: not only hot springs, but also gourmet cooking, a beautiful environment, local specialties and more. "Kusatsu Onsen Ski Resort" is also located there - right near the onsen village, in particular. If you want to do a bit of skiing after sightseeing and visiting the onsen, you need look no further! Here we'll let you in on all of the points that make this ski resort great - a place where you can thoroughly enjoy a full day of snow recreation.
Getting your fill of fun at the ski resort located near Kusatsu's onsen district


The Kusatsu Onsen Ski Resort is a ski resort located near the Kusatsu Onsen district. While somewhat compact with 9 courses in total, the slopes have a long vertical width, so the area per course is fairly substantial. In particular, the 8,000 meter long course where you can ski from near the peak acts as the centerpiece.
Naturally, given the ease of access from Kusatsu's onsen district, Kusatsu Kokusai allows you the chance to spend the first day sightseeing in Kusatsu and the second day skiing until the afternoon. This means you can thoroughly enjoy both onsen and skiing, two of the most famous winter recreational activities in Japan.


If you present a used lift ticket for the day, you can get a 20% discount on the entrance fees for the leading 3 onsen in Kusatsu: "Otaki-no-Yu", "Sai-no-kawara Rotenburo" and "Goza no Yu", a nice service provided as part of the resort's close relationship with the local onsen town.
While there are no convenient accommodation facilities directly below the slopes, the Kusatsu Onsen district is just down the road. There are plenty of onsen ryokan and hotels, so you won't have any difficulty in finding lodgings. Also, near the onsen village, there are many famous Japanese onsen locations, famous sightseeing destinations and a host of souvenir gift shops. It's ideal for those who want to spend a relaxing time of the kind that can't be experienced at other ski resorts.
It's no exaggeration to say that this is definitively a "theme park for adults" to thoroughly enjoy everything that Kusatsu has to offer.
The slopes are compact but impressive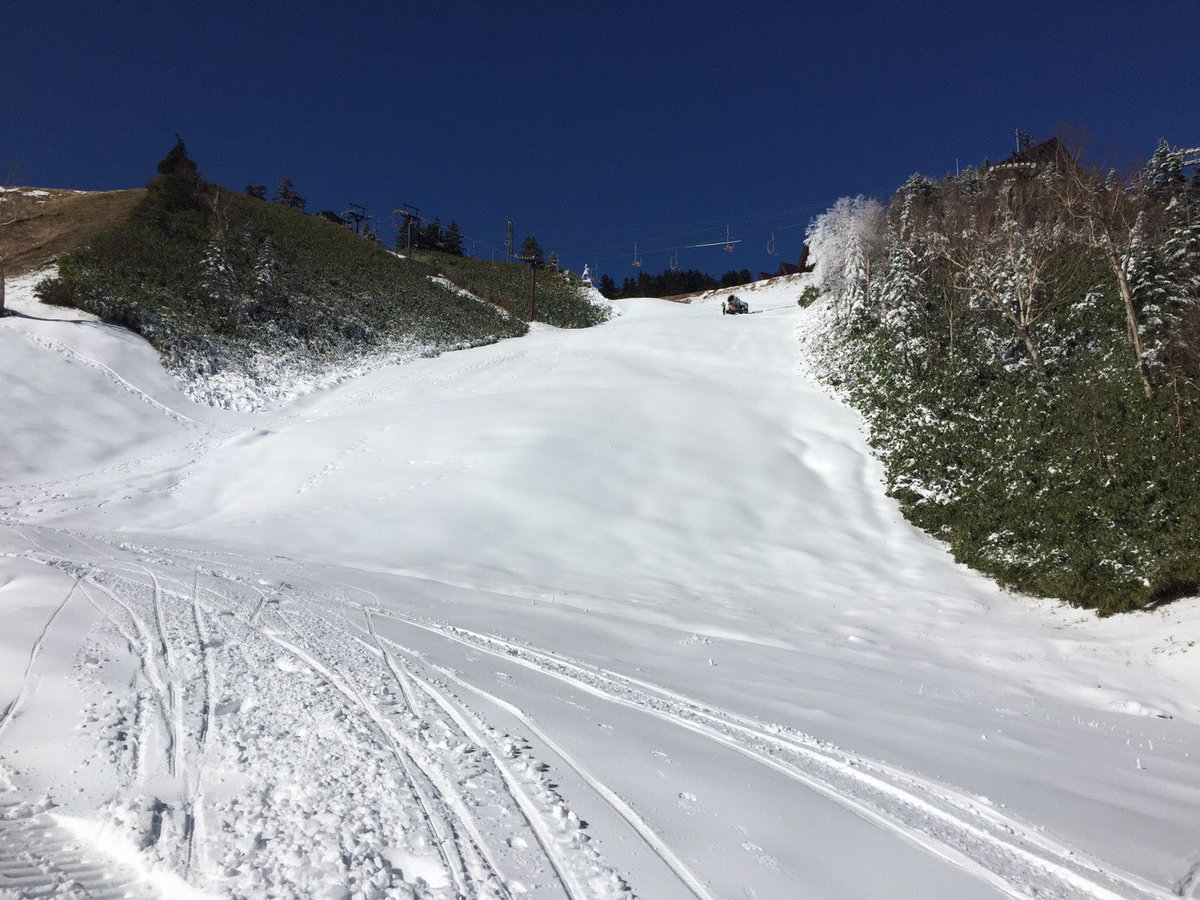 Reference: https://twitter.com/snowspa932?lang=ja
The highest elevation is rather high at 2,171 meters, so the resort's snow quality is quite good. There are even positive reviews from veteran skiers who say the snow is light and easy to ski on, compared with ski resorts located in nearby Echigo-Yuzawa. There's an exceptional view from the peak where one side is covered in snowy scenery, and there's even a core group of fans who come every year just to see it.
The most popular course at Kusatsu Kokusai is the "Furikozawa Course" located on the upper part of the slopes. Both sides of the course protrude upward, with the appearance resembling a half-pipe - all of which can be skiied or snowboarded on, of course. The experience of skiing back and forth rhythmically combined with the uniquely extraordinary views is incredibly refreshing! This particular course receives glowing reports from skiers, who often claim that "it was like being in another world".
"Tengu's Wall" on the Tenguyama slopes boasts an incline of 28 degrees, an extremely challenging course. Even advanced skiers confident in their abilities struggle in confronting the severely winding mogul formations. There's no let up in skiers, however, who take on the challenge of this popular course over and over despite its high degree of difficulty - understandable given the exceptional views you can look out on on the way down.


Making connections between the ropeway and the ski lifts is reasonably simple, so you won't have any difficulty in moving between courses. In particular there are virtually no wait times for lifts, and many say that they've never seen them congested, even on the weekends. It's a place recommended for those who want to have a comfortable experience for their first time skiing.
Those planning to go skiing while sightseeing through the Kusatsu area should always check the weather forecast for the day - the ropeway which connects the mountainside to the peak is often known to stop due to high winds. If the ropeway isn't in operation, you can't get to the peak of the mountain or use the "Furikozawa Course", so skiers who come to resort especially for those need to be particularly mindful of the situation.
Plenty of fun events for families


There is a Kids Park available for small children, where they can engage in a variety of snow activities. In addition, there are "mini slopes" for safe practice, 2-seater "snow runner" toboggans that families can enjoy, as well as sleds, snow playgrounds and a host of activities.
There's also a "snow escalator" (also known as a "magic carpet") that carries passengers to the top of Kids Park, making this resort the perfect place for teaching snow activities for the first time.
Families will love the day-care centers with dedicated childcare workers that are also available, too. There are also free rest areas on offer exclusively for those using the day-care center facilities, so taking it easy after an exhausting day is another option to consider. Overall there are many families among guests, so there is a high standard of ski etiquette within the resort. If you can fit it into your family sightseeing schedule, we'd recommend making the trip.
Kentucky Fried Chicken: the most popular food on the slopes
There's a variety of food available on the slopes, but it's Kentucky Fried Chicken that commands the most noticeable presence. There are some who may think "what's the point of coming all the way here just to have KFC?" - but being able to savor KFC's juicy fried chicken on the cold slopes has actually become extremely addictive for many. KFC is clearly the most popular shop here.
However, since set menus are limited, the food should be considered more as simply light snacks. Since the most popular shops get extremely crowded at peak times, you'd best decide in advance when you plan to have lunch.
"Onariyama Lodge" sells freshly baked bread, which is a perfect snack to ease those hunger pains. When KFC is crowded, this is a good alternate choice to beat the crowd.
A host of famous courses to wow lovers of long runs


For those that love long ski runs, there truly is no better than the courses lined up at Kusatsu Onsen Ski Resort. You're unlikely to find any other slopes in Japan with an almost straight skiing distance of 8,000 meters - and that's not including detour routes, and so on.
Although the resort is unrivaled for long courses, its only weak point is lack of variation, due to the slopes' extended vertical length. It may not be the best recommendation for those seeking a variety of course patterns.
In short - this is a ski resort where the good points and bad points are clear cut, and at both ends of the spectrum. In any case, people who like long run courses will definitely like the time they spend here. It might also become your favorite slope!"
Pricing information and schedule may not be up to date and are subject to change without notice. Please check before your trip.
Related ski resorts
| | |
| --- | --- |
| Longest run distance | 4,300 m |
| Maximum gradient | 30 ° |
Adult 2 people1 night