Even out of the many ski resorts in Gunma Prefecture, White Valley Ski Resort is known for its ease of access from the Tokyo metropolitan area, and is popular amongst many skiers. It has a great location, with it taking less than 2 hours to get from Tokyo Station to Minakami Station - the nearest station to White Valley Ski Resort - on the Joetsu Shinkansen. There's also a free shuttle bus that leaves from Minakami Station, so it's a smooth trip from the station to the resort. White Valley Ski Resort, well known for this ease of access, is also famous for its premium powder. Premium powder is snow that has not been packed down with machinery after snowfall. It's a thrilling experience, going down the slope with its dramatic and exciting ups and downs. There aren't very many ski resorts you can get to in under 2 hours from the Tokyo metropolitan area, AND enjoy great powder snow. There are also all kinds of things that make this a perfect ski trip destination for families, like kids-only courses where children can play.
Diverse array of courses


Reference: https://www.whitevalley.jp/free/cosuannai
White Valley Ski Resort also periodically hosts a Premium Pawderday." Premium Pawderday is a day in which 90% of the upper area of the slopes is made available with non-compacted snow (untouched snowfall).
Normally, the snow at ski resorts is compacted to make it easier for beginners. But certain areas of White Valley Ski Resort leave the snow on the courses completely untouched, making for an absolutely thrilling experience. This allows you to experience powder mogul on naturally made mogul slopes!
This is a popular spot every year for many skiers and snowboarders who want to enjoy a kind of thrill that goes beyond just regular skiing/snowboarding. And with the powder snow rising up and sparkling in the air wherever you go, it's a truly mystical experience.
Get the most out of your skiing experience by not having to wait for ski lifts!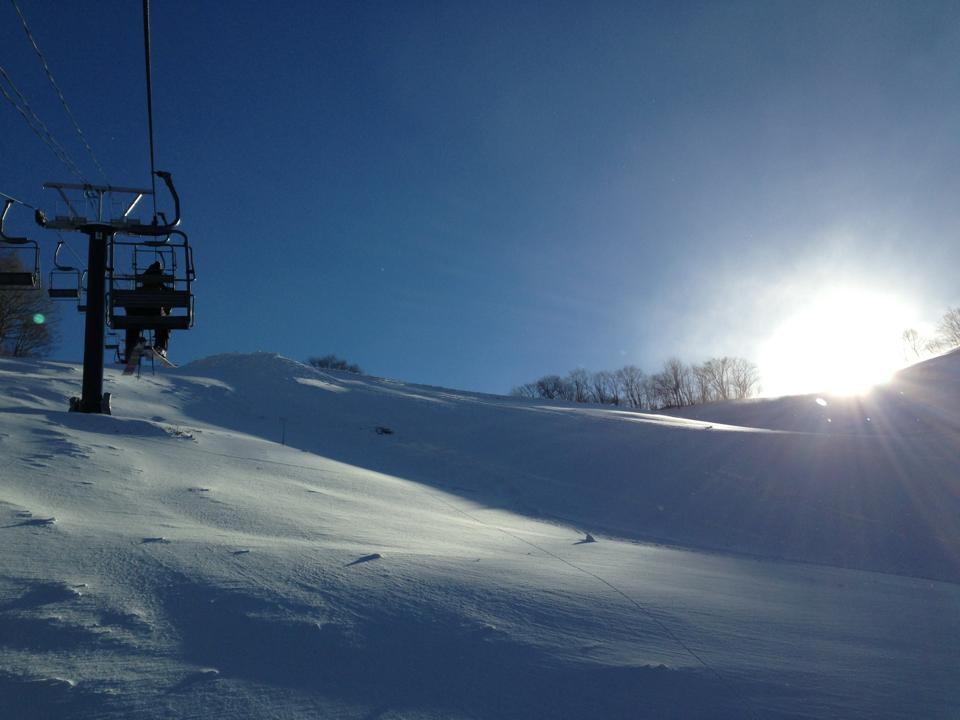 Reference:https://twitter.com/whitevalleyski/status/530654011108503554
There are only two ski lifts at White Valley Ski Resort. The first is a lift located at the bottom area of the slopes, made for beginners. The second lift takes you to courses higher up on the slopes, for intermediate- to advanced-level skiers.
These lifts are fast and efficient at carrying skiers up the slopes, and so you don't have to worry about wasting your time waiting for the lifts.
From the summit of the intermediate-/advanced-level course White Heaven Course, which is located at 1,030-meter elevation, you can look out over a snowy landscape that stretches as far as the eye can see. You'll be able to relax and ski down the slopes while looking at the silvery white scenery that stretches around you.
This is the perfect ski resort for those who just want to get the most out of their skiing experience - with the limited wait time for ski lifts, and the White Heaven Course, with its longest-run distance of 1,000 meters.
A practice area for children, called the Kid's Course!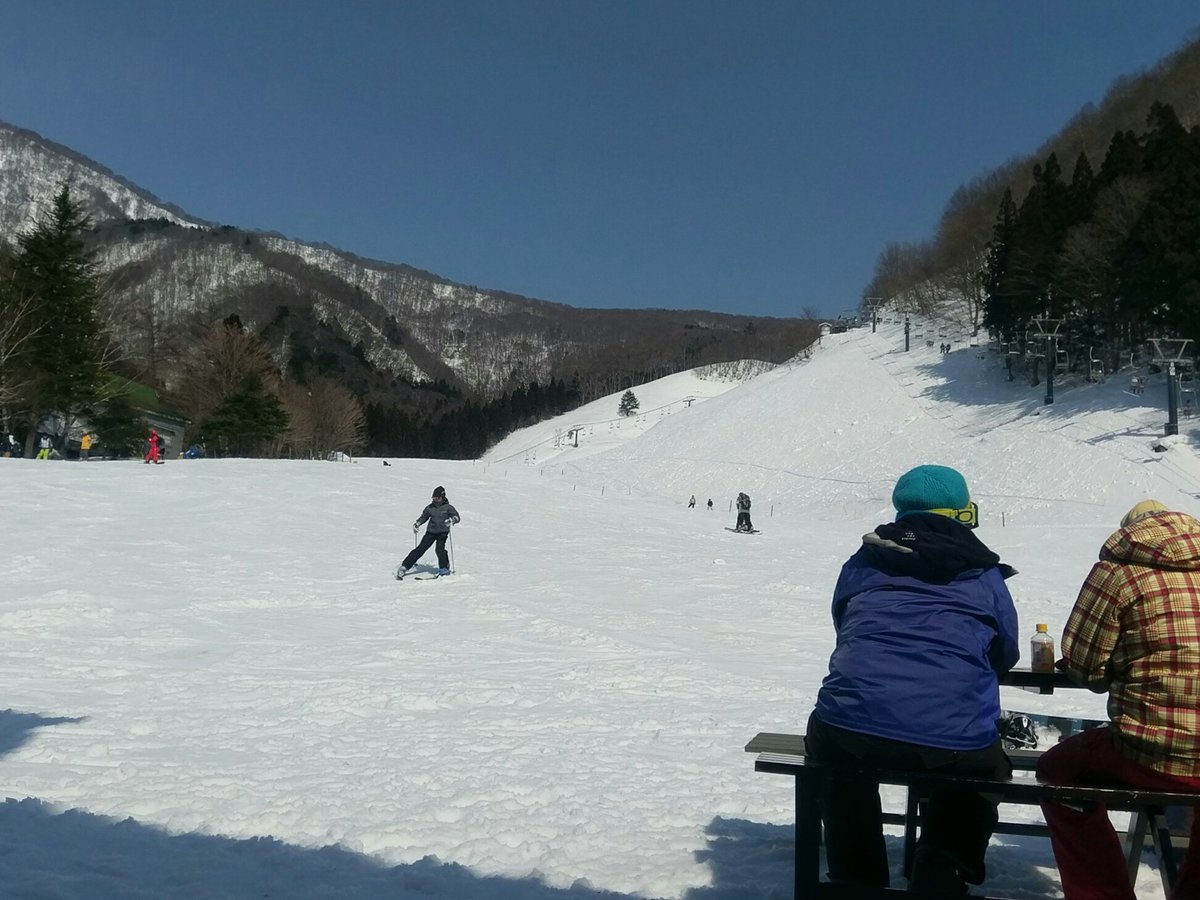 Reference:https://twitter.com/satobobo1/status/837887416497123329
Next to the beginner-oriented Fantasy Course is the kids-only practice area, Kid's Course. It's great for small children who have never skied before, as the course is wide and the slope is very gentle. It's safer, as there's less chance that they'll run into other skiers.
The course is made to have a bit of thrill, with poles set up in areas the course and some gentle ups and downs, so they can practice and brush up their skills.
The Kid's Course is fairly long, with a total distance of 400 meters. Being able to go down long distances is another great thing about this Kid's Area.
Lodge White Valley has a rest station


Skiing and snowboarding exercise the whole body, meaning you burn a lot of calories. That's why you get so hungry after skiing for just an hour or so. When that happens, just stop by the restaurant Lodge White Valley, located right next to the Kid's Course, to rest.
Lodge White Valley offers all kinds of ski resort cuisine, from the Breakfast Set (570 yen), with its sunny-side up, toast, and coffee, to the Half & Half Set (1,400 yen) that gives you both curry and hayashi rice (a curry-like meal with hashed beef and rice), and their pizza toast (450 yen), which has been a staple of theirs since their establishment.
The place is also stocked with many ski magazines, so you can lounge around drinking coffee. We particularly recommend the window seats. It feels great to just relax, take a breather, and gaze out through the window onto the ski slopes.
Stay at Yado Kanzan


After a whole day of fun skiing/snowboarding, you can stay at Yado Kanzan to ease your aches and pains.
Yado Kanzan is a high-end ryokan that has won the Gunma Recommended Service Award. The Gunma Recommended Service Award is an award given by Gunma Prefecture to companies that are known for their marketability and customer satisfaction.
Yado Kanzan is full of such hospitality, even boasting a high-concentration hydrogen bath. These high-concentration hydrogen baths are thought to help relieve cold sensitivity, aid in skin issues like wrinkles and dryness, and even help relieve the body of fatigue.
It's perfect after skiing, as your skin comes under so much UV damage at the high elevations of the ski resort.
It also boasts a natural onsen with water that is derived 100% straight from the underground source of the spring. And after you get out of the bath, why not treat yourself to a massage chair (for a fee) and just relax all your stresses away?
【Details】
Yado Kanzan
Address: 430 Tanigawa, Minakami-machi, Tone-gun, Gunma Prefecture
Opening Hours: Check-in at 3:00 pm (Ends at 10:00 pm), check-out at 10:00 am
Yutherme Tanigawa Hot Springs for your day-trip onsen needs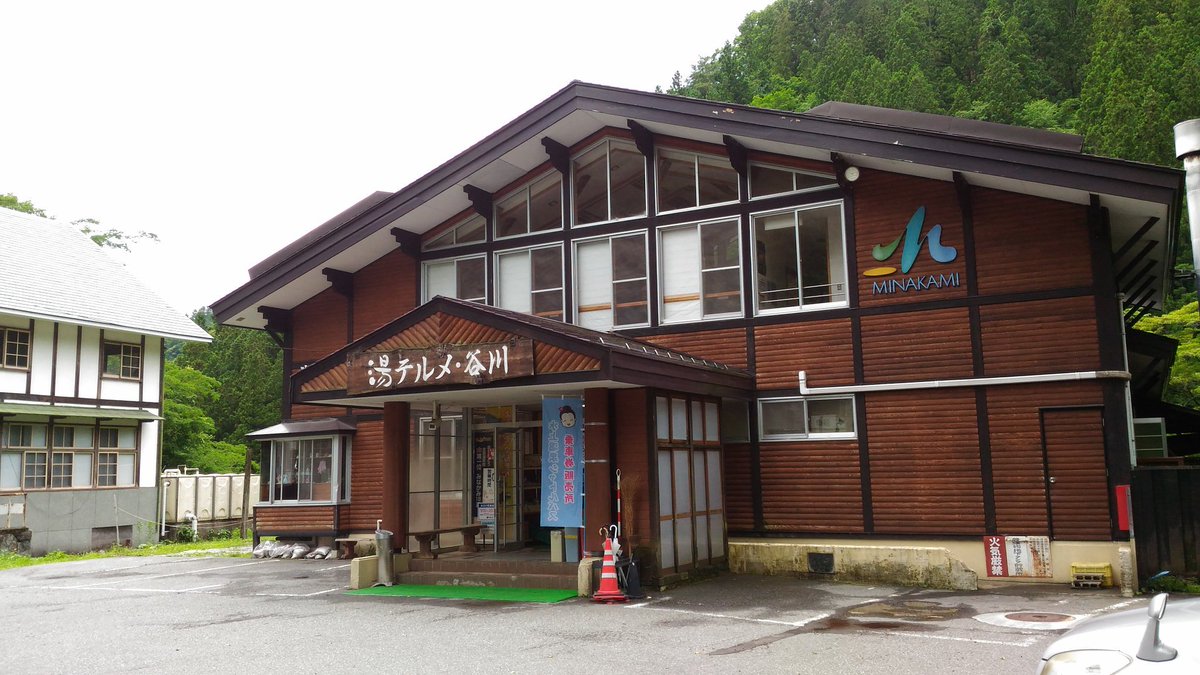 Reference:https://twitter.com/miraclehmk/status/881339164792307712
If you're someone who's going on a day trip for skiing, but also wants to take the opportunity to soak in the onsen - Yutherme Tanigawa Hot Springs is for you.
The best thing about Yutherme Tanigawa Hot Springs, which is located right next to the river, is its three different types of onsen, all sourced directly from the spring. All three of these onsen have different benefits - the Fudo-no-Yu is known for relieving fatigue, the Kajika-no-Yu for relief from muscle pain/aches, and the Hotaru-no-Yu for relief from bloating and cold sensitivity.
There are also large baths, as well as open air baths where you can relax and enjoy the sound of the river running nearby. It's great fun to be able to go in and try out the different baths, at only 570 yen for adults (middle school age and above), and 260 yen for children (3 years old to elementary school age).
Being in the onsen will warm your body and may make you sleepy, so it may also be a good idea to take a nap in the rest station on the second floor.
【Details】
Yutherme Tanigawa Hot Springs
Address: 514-12 Tanigawa, Minakami-machi, Tone-gun, Gunma Prefecture
Opening Hours: 9:00 am - 8:30 pm (July - October), 10:00 am - 8:30 pm (November - June)
Price: 570 yen for adults (middle school age and above), 260 yen for children (3 years old to elementary school age)
Minakami Sansou - enjoy some creative kaiseki cuisine


So long as you're already in Gunma, part of the joy of travel is trying out the local cuisine. Head to Minakami Sansou, located about a 2-minute drive away from Yado Kanzan, to enjoy an atmosphere of traditional Japanese refinement, and to savor some delicious cuisine.
Though Minakami Sansou, which sits next to a clear stream, is known mainly for its direct-from-the-spring natural onsen, it is also popular as a ryokan that offers creative kaiseki cuisine that incorporates elements of French cuisine.
The dishes, which are made with seasonal local ingredients, are so beautiful it seems almost like a waste to eat them. Why not try visiting?
【Details】
Minakami Sansou
Address: 556 Tanigawa, Minakami-machi, Tone-gun, Gunma Prefecture
Opening Hours: 2:00 pm - 6:00 pm
White Valley Ski Resort - perfect for your day-trip and overnight needs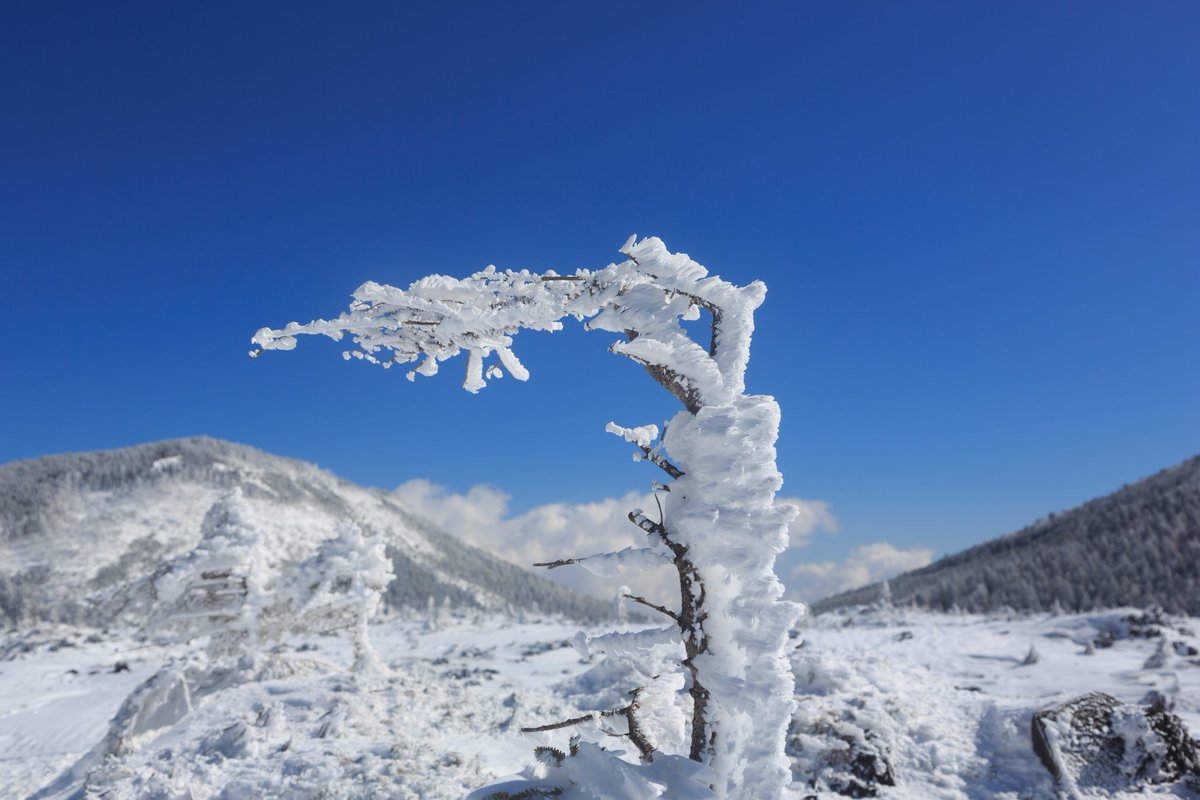 Reference:https://twitter.com/hume55240618/status/938807683339075585
Well, what do you think?
White Valley Ski Resort is a little less than 2 hours away from the Tokyo metropolitan area by Shinkansen, and has a whole lot of great points that other ski resorts don't have.
The area around it has a lot of day-trip onsen facilities, and inns where you can look out over the extraordinary mountain scenery, so whether day trip or overnight, you're sure to have a great time!
【Details】
White Valley Ski Resort
Address: Lodge White Valley, Kokuyurin, Tanigawa-onsen, Minakami Town, Tone-gun, Gunma Prefecture
Opening Hours: 8:30 am - 4:30 pm (weekdays), 8:00 am - 4:30 pm (weekends/holidays/New Year's Holiday)
Pricing information and schedule may not be up to date and are subject to change without notice. Please check before your trip.
Related ski resorts
| | |
| --- | --- |
| Longest run distance | 2,000 m |
| Maximum gradient | 35 ° |
Adult 2 people1 night