Located in Yamanouchi Town, Shimotakai District, Nagano Prefecture, Okushiga Kogen Ski Resort is one of the most well known ski resorts in Nagano. Its greatest draw is without a doubt the super fine powder snow. Skiing or snowboarding atop finely accumulated snow makes it feel like you're floating in air, a sensation rarely experienced at other ski resorts. The snow blown into the air by the wind results in sparkling frozen particles when lit up by the sun, providing a magical experience like few others. There are plenty of runs for skiers of all levels, from beginner to advanced, which is another reason why many skiers are captivated by this resort. There are also a number of hotels and lodges in the area. During the peak season, the resort is abuzz with skiers and snowboarders staying overnight.
Plenty of runs with varying terrain


Reference: http://www.okushiga.jp/skiresort/guide/
Okushiga Kogen Ski Resort offers a number of runs that are sure to please, including a wide and gently sloping run for beginners, and a downhill run for intermediate and advanced levels that starts from atop the 2,000-meter Mt. Yakebitaiyama.
You'll also find a lineup of other runs enjoyable for everyone from beginner to advanced, including a run with plenty of undulations that will test your reflexes, and another downhill run spanning 3,000 meters.
The Forest Course is a must-try for beginners and intermediate levels alike because of the thrilling experience of skiing amongst a beautiful natural backdrop. The run is lined with snow covered trees, providing an exhilarating run in the middle of nature.
Kids Park and Kids Forest Course just for kids


The appeal of Okushiga Kogen Ski Resort doesn't stop there. There is a special kids-only play area with plenty to see and do for children experiencing snow for the first time.
The Kids Park located in front of the Center House at the base of the slopes features an arch and snow escalator, providing a fun backdrop for children to learn skiing together.
Once they get used to it, children can try out the Kids Forest Course, a dedicated run only for kids located on the side of the park. There are several rubber poles set up along this gently sloping run perfect for practicing turns. The kids-only Kids Forest Course provides an added sense of adventure because it is surrounded by a forest.
The Kids Forest Course is separated from other runs with netting, so the kids can learn at their own pace without worrying about bumping into more advanced skiers.
Hotel Grand Phenix Okushiga is directly adjacent to the slopes


Hotel Grand Phenix Okushiga is the most recommended accommodation among the many hotels and lodges found around Okushiga Kogen Ski Resort. Connected directly to the slopes, the hotel affords overnight guests the chance to ski or snowboard to their hearts' content from morning to night over two days.
There is a coin-operated laundry in the basement, too, so you can wash your clothes and undergarments daily. From guestroom windows, you'll be treated to the sight of a winter wonderland below. The hotel will ensure your ski or snowboarding experience includes not only thrilling fun on the slopes, but also beautiful winter scenery as well.
Experience the beauty of Japanese cuisine at Kagaribi


One of the joys of a ski holiday is dining at the hotel. Hotel Grand Phenix Okushiga offers three restaurants each serving Italian, Japanese, and Chinese cuisine. Each establishment offers a kids menu, too.
While each restaurant is highly recommended, we suggest heading to Kagaribi to experience the beauty of Japanese cuisine - since you're in Japan. The many dishes made with fresh mountain vegetables harvested in Nagano highlight the skills of the master chefs not only in taste, but also in terms of the artistic presentation, too.
【Details】
Hotel Grand Phenix Okushiga
Address: Okushiga-Kogen, Yamanouchi Town, Shimotakai District, Nagano Prefecture
Opening hours: check-in at 4:00pm / check-out at 12:00pm
Be sure to visit Okushiga Kogen Ski Resort as a family this winter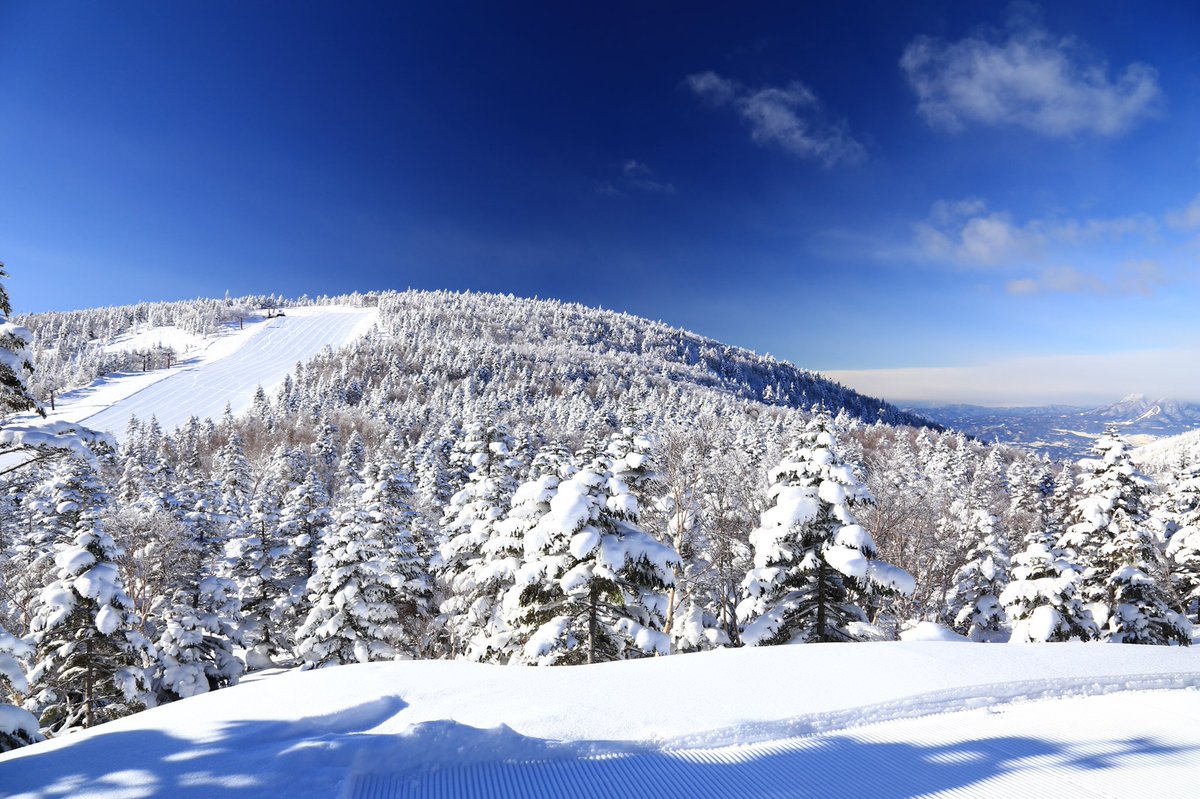 Reference: https://twitter.com/hgrandphenix/status/951988204915195904
There are a number of other ski resorts around Okushiga Kogen Ski Resort. Staying consecutive nights at a hotel or lodge to try out the many ski resorts in the area will make for a memorable trip.
【Details】
Okushiga Kogen Ski Area
Address: Okushiga-Kogen, Yamanouchi Town, Shimotakai District, Nagano Prefecture
Opening Hours: 8:30am - 4:00pm
Pricing information and schedule may not be up to date and are subject to change without notice. Please check before your trip.
Related ski resorts
No. 7
Ski Resort
No. 7
Ski Resort
| | |
| --- | --- |
| Longest run distance | 1,200 m |
| Maximum gradient | 30 ° |
Adult 2 people1 night