Akasawa Snow Park, which is located in Minakami Town, Tone-gun, Gunma Prefecture, is a ski resort frequented by many tourists, both from Japan and overseas. One of the reasons for its popularity is the variety it offers in terms of beginner-oriented courses and facilities. They also offer a full assortment of rental gear, like ski wear and skis, so you can just arrive empty-handed. This is a great perk especially for travelers, who tend to have a lot of luggage on them anyway. You can also rent out the entire ski resort (from 40,000 yen per day). Do that, and you'll be able to ski as much as you want, however much you want, without worrying about other skiers. We recommend this rent-out option if you're planning a ski trip with your family or a group.
Rope Tower - safe and secure, even for beginners and small kids


Beginners who have never even seen or touched snow before tend to be anxious about whether or not they'll be able to manage skiing, especially when they're not even used to the snow. Akasawa Snow Park, however, offers a Rope Tower, which is a rope skiing plaza for beginners.
The Rope Tower is a structure meant to help you practice skiing on the snow. Beginners can hold onto the rope, which stretches out at a height of about 120 - 140 centimeters above the ground, with both hands as they practice. Keep doing this again and again, and you'll find your body will gradually get used to the feel of the snow.
A dedicated instructor will give you step-by-step guidance as you practice on the Rope Tower. They'll teach you the tricks you'll need to learn to ski smoothly on the snow, and even how to get grab onto the rope - so it's the perfect environment for kids to start getting into skiing.
Learn the basics of skiing - from how to trip to how to turn - and you'll find that it'll be smooth sailing when you actually get out onto the slopes. The Rope Ticket - which you'll need to receive instruction at the Rope Tower - is 1,200 yen. Make sure to buy this ticket at the Ski Center located at the base of the slope, if you want to practice on the Rope Tower.
A ski school for beginners of skiing as well!


Akasawa Snow Park offers ski lessons for beginners whenever desired. There are three lesson courses offered: General Lessons, Individual (Private) Lessons, and Group Lessons. These lessons are offered in 1.5-hour and 3-hour blocks. The General Lessons start at 3,000 yen, the Individual (Private Lessons) at 11,000 yen, and the Group Lessons at 20,000 yen.
Highly skilled, dedicated instructors will provide instruction that suits your level of skill - whether you're a beginner, an intermediate-level skier, or an advanced-level skier. They'll give you step-by-step instruction as to the basics of skiing, from how to walk sideways to getting on and getting off the ski lift. It's definitely worth it to participate if you're a beginner. The best way to get better at skiing fast is to get the basics down first.
Course configuration that allows you to enjoy skiing while leveling up your skills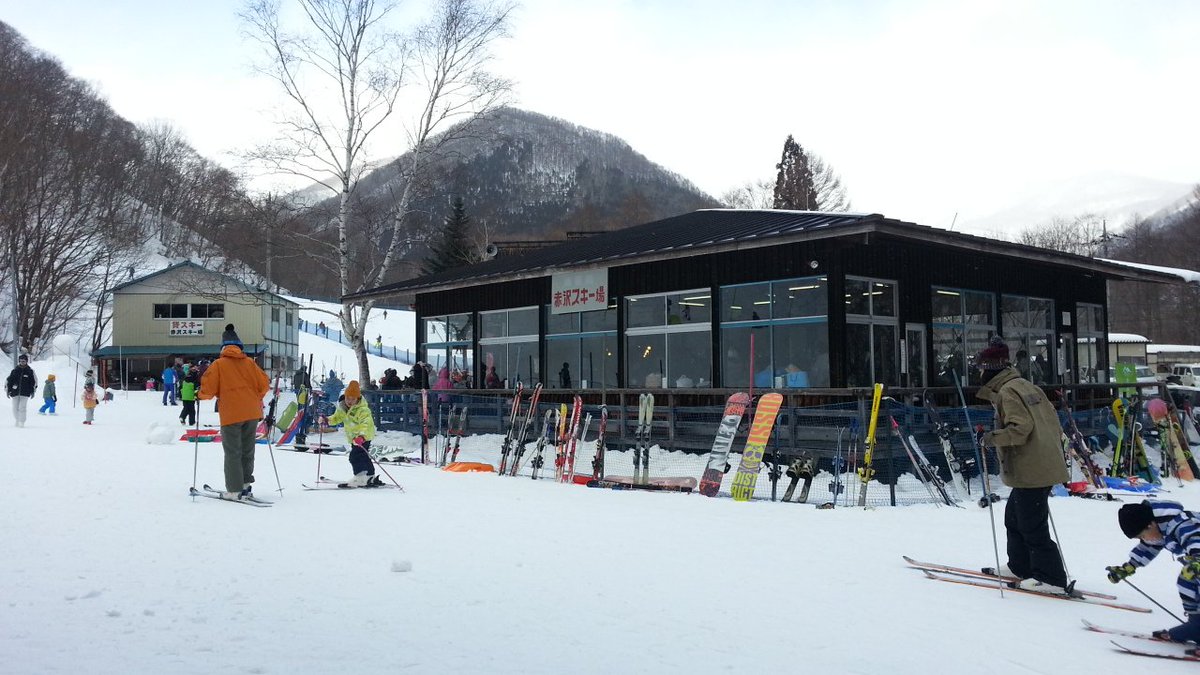 Reference:https://twitter.com/akiraatsumi/status/962529148521537537
Once you get used to the snow on the Rope Tower, try heading out on the slopes. Akasawa Snow Park has two lifts - the Number 1 Lift and the Number 2 Lift. We recommend that beginners first go on the Number 1 Lift, which takes you to a gentler slope.
Hop onto the two-person lift, and let it carry you - swaying gently - all the way up to the starting point. As you get closer to the summit, your range of vision will expand, and in just a few minutes, you'll see snow-dusted mountains stretching out ahead of you.
Seeing skiers having an amazing run down the stark white course, and the children practicing at the Rope Tower - where you were until just before - will hype you up for your ski experience.
There's nothing around Akasawa Snow Park to obstruct your view. As such, you'll be able to feel a kind of expansiveness and freedom you can't experience in the city. For beginners, we recommend the Number 1 Course, which is wide with gentle slopes. You'll be able to feel safe and secure about going down the slope.
The Number 2 Lift, perfect for intermediate- to advanced-level skiers that want to work on their technique


Try moving to the Number 2 Lift for some variety once you're able to get the beginner courses down. There are two courses accessible via the Number 2 Lift. The first one of these courses is a thrilling one, with many moguls built atop its slopes. The second is a course with a total run distance of 1,000 meters, which will let you enjoy some long-distance skiing.
Both courses are steep, meaning they'll provide an excitement and thrill that you wouldn't have experienced in the beginner courses. However, the courses at the Number 2 Lift do tend to have a lot of intermediate- to advanced-level skiers, so make sure you don't run into anyone and get hurt.
Come empty-handed! A full assortment of ski rental gear


Akasawa Snow Park offers a full assortment of ski rental gear. The Ski Set, which allows you to rent skis, snow boots, and ski poles, is 2,500 yen for adults and 1,500 yen for kids.
Ski wear is also available for rental at great prices - 2,000 yen for adults, and 1,000 yen for kids. They're all well-maintained, and won't hurt your wallet.
An added perk is the fact that a lot of the ski wear for rental is very chic and stylish. It's exciting to be wearing ski wear that looks so good, especially when you're taking commemorative photos.
Free, spacious changing rooms!


The Ski Center located at the base of the slope also comes equipped with free changing rooms. Skiing exercises your whole body, which means you sweat way more than you'd think when you ski for a whole day. Stay in your sweaty clothes and you might get chilled and catch a cold, or they may chafe and feel uncomfortable. Make sure to towel off your sweat after you ski to prevent catching a cold.
Make your skiing debut at Akasawa Snow Park


We weren't able to discuss them all today, but Akasawa Snow Park has a ton of other great things about it as well. This is a ski resort oriented towards beginners and families, with a Rope Tower - a rarity in ski resorts in Japan - that lets you get used to the snow, a plaza specifically for playing around in sleds, and more.
【Details】
Akasawa Snow Park
Address: 620 Nagai, Minakami-machi, Tone-gun, Gunma Prefecture
Opening Hours: 8:30 am - 4:30 pm
Pricing information and schedule may not be up to date and are subject to change without notice. Please check before your trip.
Related ski resorts
| | |
| --- | --- |
| Longest run distance | 1,000 m |
| Maximum gradient | 28 ° |